These lamps provide lighting for your workplace or home with style and decor. They can be fitted with energy efficient bulbs to reduce your utility costs. Multiple designs are available so you can choose features that include finish, height, adjustability, and color.

Decorative
The right lamp has the right look. Decorative lamps can coordinate with the overall decor style that you are looking to establish. A well-chosen lampshade can even be a topic of conversation if it fits in well with other design elements in the room. Lamps are a high-level design element in a room as they provide light as well as serving as visual focal points. A well-designed room often features beautiful lamps.

Functional
Lamps accent a room in form and function, and when they are missing a room can appear dark and uninviting. The right lamp provides the right amount of light where and how you need it. The bulb of choice is also critical in this decision but being able to adjust the arm of a lamp is just as important. Some designs allow you to move the light in three dimensions and provide maximum flexibility in illumination.

Energy Efficient
Electric lighting consumes 25 percent of the average home energy budget. The energy used by a single incandescent bulb is more than five times what that bulb cost, so what you choose to put in the lamp you buy can save you a lot of money. These lamps work with the new generation of low-energy LED light bulbs, which use only 2 to 7 watts of electricity and reduce your energy bill when you install them in your new lamp.






More
Less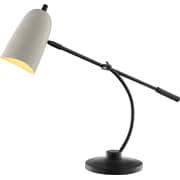 Martha Stewart Blair Desk Lamp
Item: SS1111679
Uses 1 13-watt CFL Bulb (Included) or 1-60-watt Incandescent bulb (Not Included)
Black Finish
Height: 15.67"