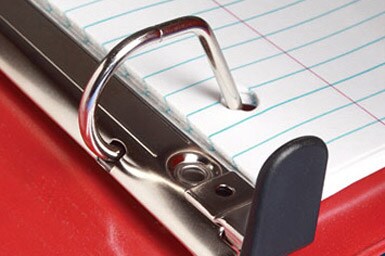 Kids may care what their backpacks and school supplies look like, but for the parents who are paying for these back to school items, durability matters a whole lot more. Even though it's tempting to shop on price, you're not going to save money if you have to replace items that break or don't perform correctly. Quality is the best way to get your money's worth — and luckily, quality comes at many price points.
Try these tips for selecting long-lasting back to school supplies:
Choose Trusted Brands
If you've had good experience with a particular brand, start there. If you're not sure, check online reviews to see what actual users have to say. Manufacturers that aggressively test their products before putting them on store shelves are more likely to produce school supplies and backpacks that last. (Learn more about Staples® brand products.)
Simulate Actual Use
Don't be afraid to put supplies to the test while doing your back to school shopping. Here are some things you can do to simulate actual use.
Backpacks:

Be sure to bring your kids when you're shopping for their backpacks. Try loading up their top choice in the store with the supplies they'd really carry to see where the stress points are (hint: check straps and seams). Then look more closely at the workmanship. Stephen Fishburn, a father of three from Maple Valley, WA, suggests making sure that, "zippers are metal, seams are double-sewn, the fabric feels thick and there are no loose threads on inside seams."

School Supplies:

Closely inspect items like binders and spiral notebooks to make sure they perform correctly. The longest-lasting binders have rings that open easily and don't gap or misalign and reinforced spines that can take repeated opening and closing (like Staples Better® binders). Long-lasting binder pockets easily hold several sheets of paper without tearing or gapping. Make sure spiral notebooks have strong coils that won't easily bend, and covers and dividers that are tear-resistant (for extra protection, check out the Spine Guard™ notebook line). When shopping pocket folders, you'll get more longevity from poly products.
Look for Warranties & Guarantees
Warranties and guarantees are an easy way to spot school supplies that are likely to last. "Don't always go for the cheapest merchandise," says Jeanette Pavini, consumer savings expert with Coupons.com. "A lunch box or backpack for school with a lifetime warranty could be a good investment." Be sure to check the warranties for any back to school technology you buy, and don't forget to supplement with an appropriate protection plan.
Though warranties are most common on bigger-ticket items, guarantees are often available on less costly back to school supplies, like binders and pens. For instance, the Staples® Brand 100% Satisfaction Guarantee lets you return any item from pens to furniture that you're not 100% satisfied with.
While it may be the last thing you feel you have in the rush to procure back to school supplies, a little extra time — and attention to detail — can actually save you more time and money down the line. "It's easy to get carried away because so much of the stuff is really cutesy and cool, and then nothing's purchased based on durability," cautions Lynne Skinner, a mother of two in Austin, TX.
Remember, tastes and price tags change, but quality and saving never go out of style.