Get a shortcut to Staples.com
®

.

Download the Easy Button® application to your desktop and you'll always be one click (push, actually) away from shopping Staples.com. And it'll look cool on your desktop, too.
Get an Easy Button
®

for your desk.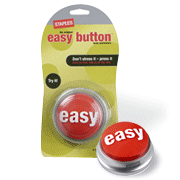 Pick one up for yourself. Your coworker. And how about one for your boss? It's a great reminder to keep things easy at work. And that's just the way we like it.
Plus, each year, Staples Foundation for Learning® will donate all proceeds from this product, up to $1 million, to Boys & Girls Club of America.