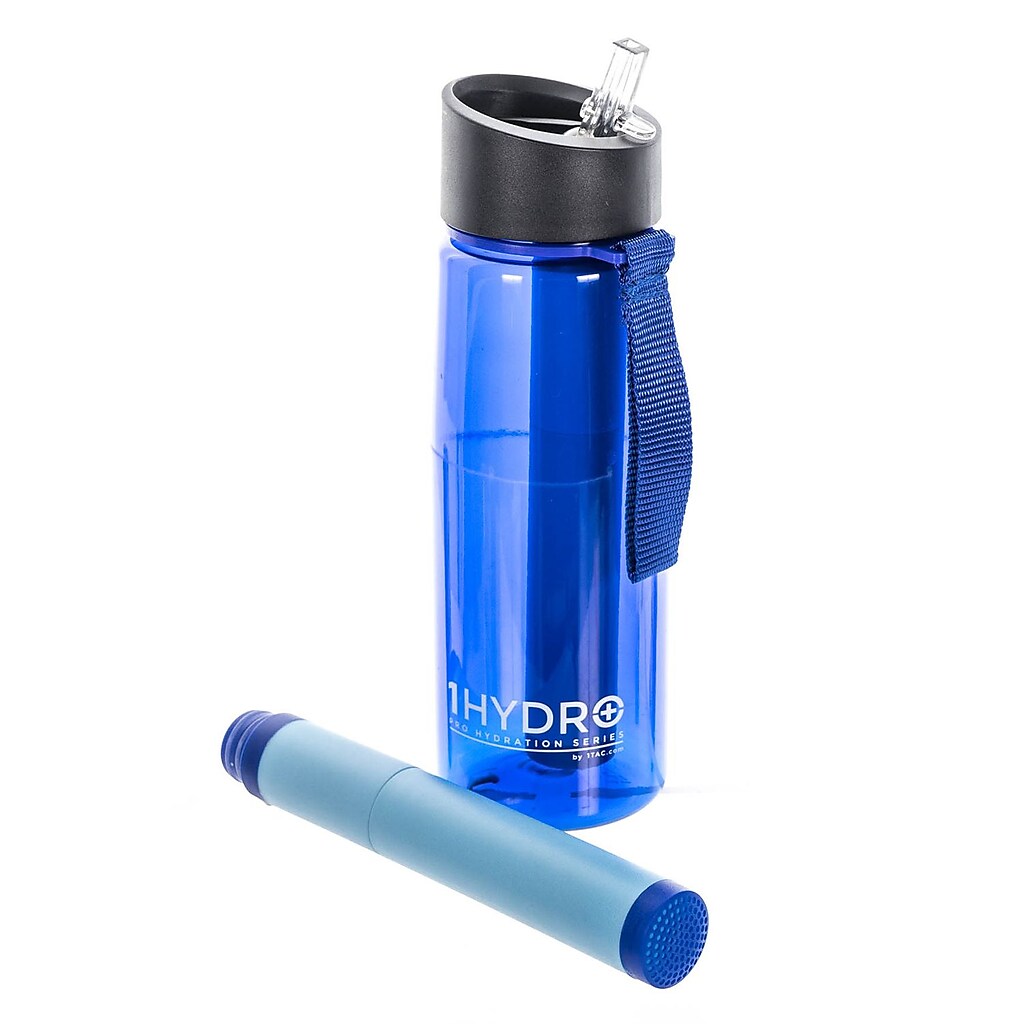 1Tac 1Hydro Pro Series Filtration Water Bottle
Item #: 24145614
| Model #: 1HYDROBTL
This item is out of stock for delivery
About this product
1Hydro Pro Water Bottle with Filtration System
The 1HYDRO bottle is an effective way to ensure you'll have fresh, clean drinking water wherever you go. The production of water bottles uses 17 million barrels of oil a year, and it takes three times the water to make the bottle as it does to fill it. Each 1HYDRO Filter can replace more than 3000 typical bottles of water and save you thousands. The portable bottle design means you'll never be far away from delicious, crisp water. It's ideal for hiking, traveling, camping, or any sort of emergency situation where you need clean water.
Chemical-free portable water bottle filter system

Each filter provides up to 1,500 liters / 396 gallons of clean and safe drinking water

Hollow fiber UF membrane with coconut activated carbon and antibacterial beads

Removable Filter with replaceable straw

Zero Aftertaste as it Contains No Chemicals or Iodine

Removes 99.9% of waterborne bacteria (LOG 6 reduction), including E-Coli

Removes 99.9% of waterborne protozoan parasites (LOG 3 reduction), including Giardia & Cryptosporidium

Ideal for Hiking, Camping, Travel and Emergency Preparedness

Compact and Lightweight bottle design

Made from BPA Free ABS Plastic and Eco Friendly

Integrated Compass In The Bottle Cap

Built-in Nylon Wrist Lanyard

Integrated Connector Thread to Attach Bottles and Bags

Bottle Capacity of 650ml

Water Flow Rate of 550ml/min

Filter Accuracy of 0.01 micron

Filter Shelf Life of 5 Years
By using the advanced filtration system, the 1HYDRO bottle can remove up to 99.9% of any and all bacteria; keeping your water in a drinkable state. Having a 1HYDRO Pro Filtration System with you, you can always be prepared. Simply fill the bottle with water from any natural source, then the built-in system will filter out any harmful elements. The bottle takes care of all the filtration on its own. Once the water is poured into the bottle, the hollow fiber membrane traps in the pathogens. This makes it so only clean water can escape the filter and this purified water is then ready to drink. The 1HYDRO bottle is made up of BPA-free plastic material and the filtrations system is chemical-free. In addition to being a highly advanced filtration system, the 1HYDRO Water Bottle also has an integrated compass in the bottle cap. Plus it also has a convenient nylon wristband so that you'll never lose it.