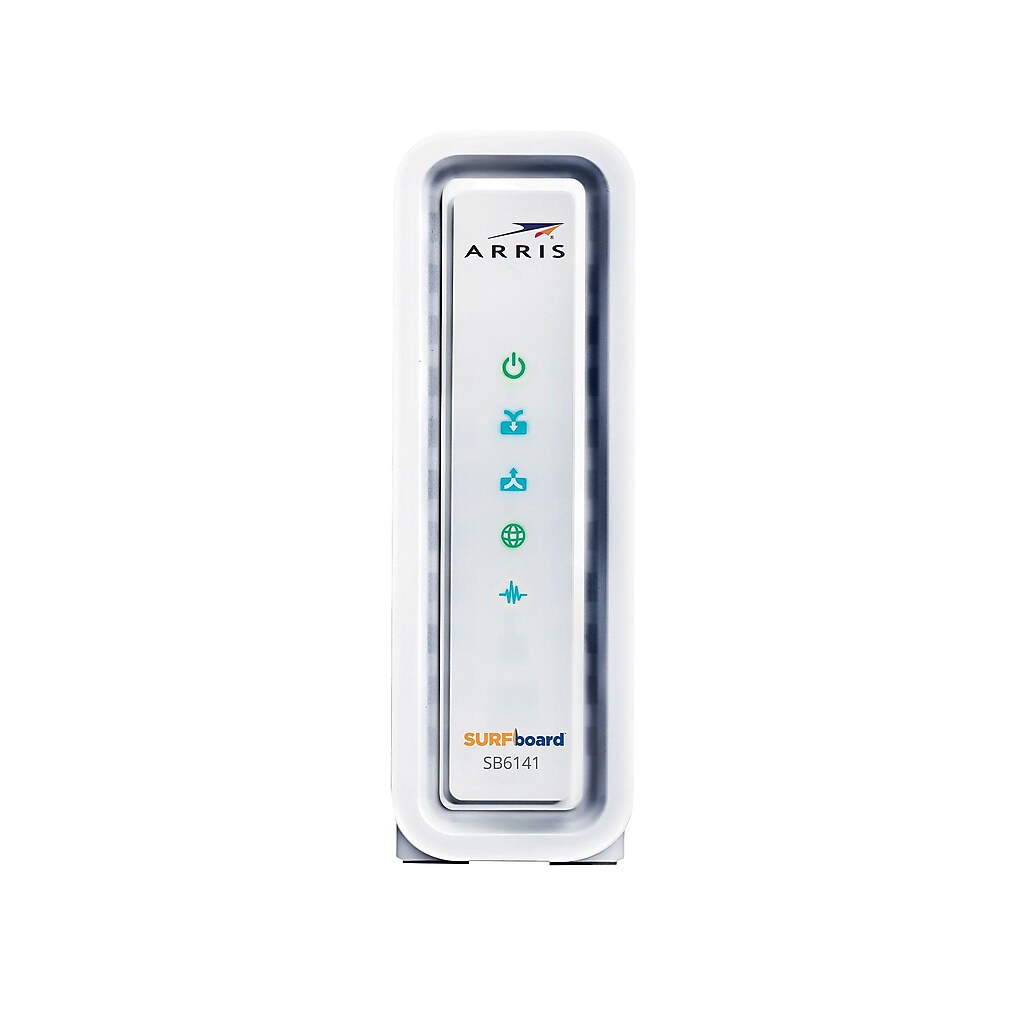 Arris SURFboard DOCSIS 3.0 SB6141 Desktop Cable Modem
Item #: 61872
| Model #: 581902-022-00
This item is out of stock for delivery
About this product
Manage your home Wi-Fi network effectively with this Arris SURFboard cable modem.
Enjoy download speeds of up to 343 Mbps with this cable modem. It simplifies the process of setting internet access rules, letting you manage the quality and availability of your network better. This Arris SURFboard modem is compatible with major U.S. cable providers, so installation isn't complicated.
High-speed DOCSIS 3.0 cable modem provides an ultra-fast Internet experience

Provides you with 343Mbps download speed, perfect for streaming, online gaming, and downloading

One 1-Gigabit Ethernet port and coaxial cable connector

Dimensions: 5.24"H x 5.24"W x 1.65"D

Easy to install in a matter of minutes

Supports IPv4 and IPv6, compatible with major US cable providers

Enhanced security: supports AES traffic encryption; DOCSIS 3.0 security (BPI+,EAE, SSD)

Includes an internal filter to eliminate potential interference from MoCA signals' intermodulation beats

Bonding of up to eight downstream channels and four upstream channels, increasing data rates of over 300Mbps for received data and over 100Mbps when sending data

Compatibility: Windows XP, Windows 7, Windows 8, Linux, UNIX, Macintosh, Home Networking

2-year manufacturer limited warranty


DOCSIS 3.0, the Next Generation of Cable Internet Speed
The ARRIS SURFboard DOCSIS 3.0 Cable Modem lets you enjoy faster downloads, lag-free gaming, and stutter-free HD video streaming. DOCSIS 3.0 technology enables channel bonding of up to eight downstream channels and four upstream channels for speeds as much as eight times faster than a DOCSIS 2.0 cable modem--that's up to 300 Mbps downstream and 100 Mbps upstream.

10/100/1000 Base-T Ethernet for Blazing Fast Speed
The onboard GigE RJ-45 data port delivers blazing speeds directly to your Ethernet-enabled devices. Plus Auto Negotiate and Auto MDIX offer enhanced operation. Activate the dual-colored LEDs and get visual verification of bonded channels and GigE link use.

Advanced Security and Network Management Features
The ARRIS SURFboard SB6141 helps keep your data safe with advanced security technology like AES traffic encryption. Enhanced network management utilities help you manage your connections, whether you're using the ARRIS SB6141 at home or at the office. And user-friendly online diagnostics make it easy to keep your network running smoothly.

Compatible with the Latest Technology
To ensure the best experience with all your favorite online services like video streaming, online gaming, and more, the ARRIS SB6141 tuner has the flexibility of two individual 96 MHz capture bandwidth groups. Plus it supports IPv4 and IPv6 to expand network addressing capabilities. And to ensure all your devices can take advantage of the ARRIS SURFboard SB6141 DOCSIS 3.0 Cable Modem's speed, it's compatible with Windows, Macintosh, and UNIX computers.