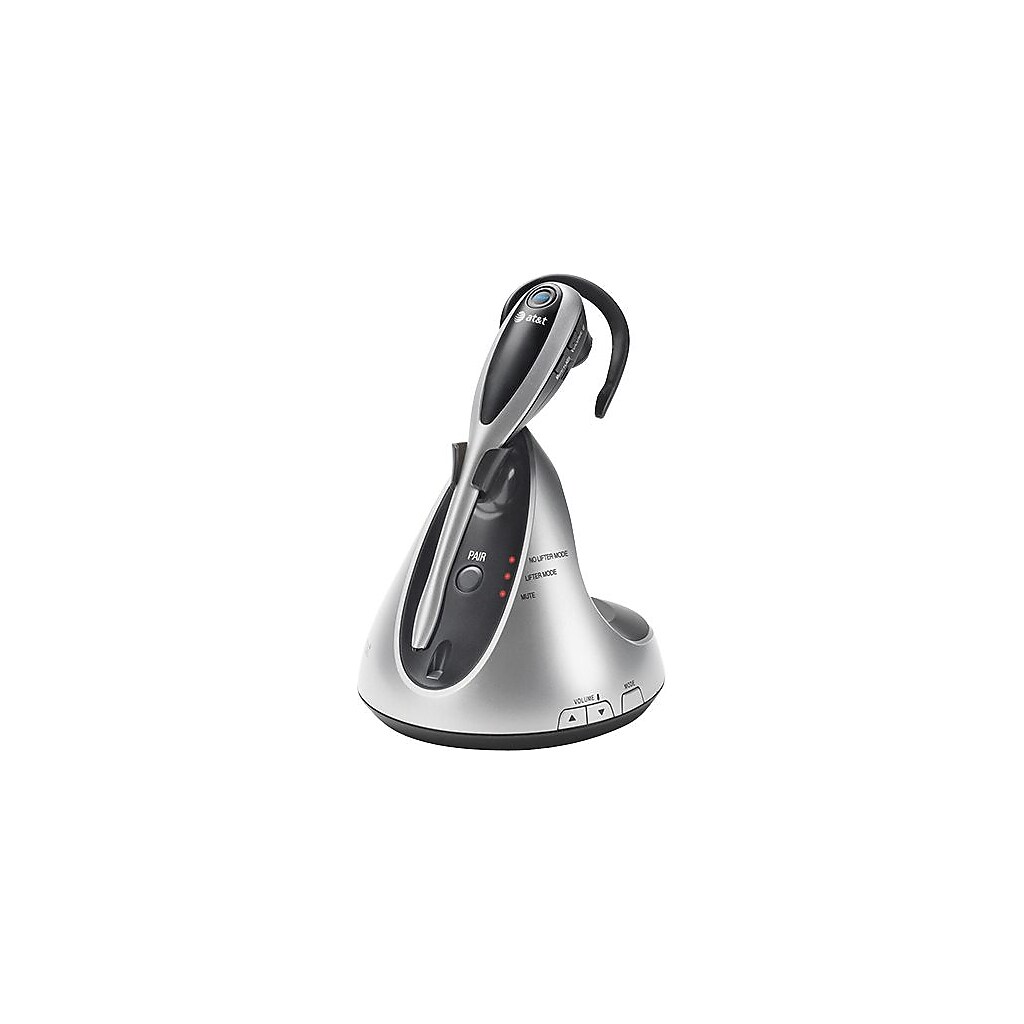 AT&T TL7610 Handsets
Item #: 786013
| Model #: TL7610
This item is out of stock for delivery
About this product
Expand your communication capabilities with this AT&T telephone headset
Supplement your existing office phone system with this easy-to-use AT&T cordless telephone headset. This versatile headset pairs with your corded or cordless phone system and extends the range up to 500 feet to let you move around the office as you talk, while the simple hands-free design lets you take notes or look up information without interrupting the conversation. This lightweight headset is comfortable enough for all-day wear, so you're always ready to take a call.
Built-in switching mode lets this headset work with single or multi-line phone systems for versatility

Comes with one headset and can expand to two

Convenient one-touch answering system

Five-level audio and ringer volume controls let you adjust to your office environment

Sound level protection ensures clear, easy-to-understand calls

Dual-color in-use indicator light helps you monitor phone usage and prevents accidental interruptions

Lightweight, ergonomic design keeps you comfortable as you work

Automatic off saves energy when the headset is not in use

Extends your existing phone system's range up to 500 feet for more freedom
Take advantage of the wide range of this AT&T telephone headset to conduct business and have hands-free conversations. This comfortable telephone headset offers you multiple wearing modes and pairs well with all sorts of phones.

Hands-Free and Versatile
Pair this telephone headset with cordless or corded phones, and with single- or multi-line telephones to give yourself hands-free convenience. Five levels of audio volume and a mute button put you in control, and ringer volume control lets you ignore your calls when you need to.

Multiple Wearing Modes
Wear this AT&T telephone headset over your ear, over your head or around your neck, whichever you find the most comfortable. The modern design is lightweight and easy to put on.

Excellent Range and Sound Quality
With 500 feet of range from the base, this expandable telephone headset keeps you mobile as you talk without interrupting your call. Superior sound quality keeps you connected and lets you hear every word, while wiretapping protection keeps your calls safe. Use this cordless telephone headset with iTunes or Windows Media Player to take advantage of its fine sound quality while enjoying your favorite tunes or podcasts.