Navigate to Top
Modern businesses of all sizes use Adtran® routers to provide a wireless connection throughout their offices. These routers emit a wireless signal that connects every authorized device within range, from desktop computers to handheld tablets, to a fast, reliable internet connection. Routers vary somewhat in design and capabilities, so it helps to know what to look for before setting up an office Wi-Fi network.

Adtran Router Standards and Bands
The first consideration in a new router is the standard it operates under. There are three basic types: "b," "g," and "n." "B" is old technology, and many users have long since upgraded to higher-performing "g" or "n" standards, "n" being the newest and most advanced. Which standard a router uses determines, among other things, which bands it can operate in.

A new Adtran router is likely to operate up to the 'n' standard, which means it's probably a dual-band machine. This means it simultaneously processes signals in the 2.4 GHz and 5 GHz bands, rather than just in the 2.4 GHz band that older routers use. Dual-band capacity lets the router switch away from a frequency range where other routers may be clogging up traffic, so there's always a clear signal even in a shared office space.

Security Considerations for Adtran Routers
Anytime data gets sent over a wireless connection; security becomes a factor. Adtran routers offer a variety of safety options to protect a company's private information safe. In addition to the industry-standard WEP barriers, these routers support WPA and WPA2 encryption. If a business deals with sensitive information, consider getting a router with strong controls and the ability to create multiple SSIDs. Ideally, a business network can create guest accounts and manage access so that users only see what they have permission for.

Adtran Router Speed
A router's speed is limited by several factors, some of which may be outside of user control. An "n" standard router can go as high as 300 Mbps, which is very fast for a wireless connection, but it can only go as fast as the connection it's wired to. If an office only has a 100 Mbps external connection, for example, then the router stays below that speed.

Though there are limits on the absolute speed of the network, it's possible to get the most out of the available bandwidth. Look for a router with at least one Ethernet port in an easy-to-reach spot like the front face. A router typically has between one and three such ports, where users can plug in a network cable and get a data transfer rate far higher than the Wi-Fi signal allows. This is ideal for a central server that needs more bandwidth than peripheral devices, such as employees' laptops and phones.

What Does an Adtran Router Do?
Adtran routers connect computers and other devices to a wireless internet signal. This lets users connect from any spot within range of the router.

How Does an Adtran Router Connect to the Internet?
They use a wired connection to send and receive packets over the internet. They send out a wireless signal that connects with devices all over the office, and then they rout users' data packets from that wireless connection to the cable and the internet.

What Other Types of Connections do Adtran Routers Support?
In addition to the wireless signal, most Adtran routers support wired Ethernet connections for users, as well as a few WAN/LAN ports and a USB port for network managers to access the router's settings and controls.
More
Less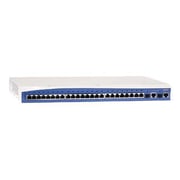 Adtran 1700525E2 Multi-Service Access Router
Item : IM1M11158
PAP, CHAP, XAUTH, Digital Certificates, SecurID, Virtual Private Network security
Wi Fi access controller for centralized management of NetVanta wireless access points (WAPs)
Form factor: Rack mountable