Navigate to Top
Aiseesoft FoneEraser for Windows (1 User) [Download]
Item : 2741761
FoneEraser can erase a variety of your iPhone contents and settings permanently. The contents include, Text contents and Media, App, documents and settings. Even you resell your old fashioned iPhone on eBay, you can set your mind at rest.
FoneEraser does a great favor to mop up everything on iPhone thoroughly. When you want to resell your old iOS devices on eBay, you will delete the content on them or restore it by factory reset.
This professional software provides you three modes to clean iOS devices data. No matter you want to wipe out confidential documents on your job, or just common files in your life, you can choose one of the three levels to start your erasure.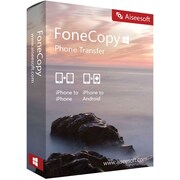 Aiseesoft FoneCopy for Windows (1 User) [Download]
Item : 2741762
Got a new smart phone? How about the valuable data like contacts, photos, music etc. on your old phone? You definitely want to know how to copy these files from the original phone and paste on new one quickly. This phone files transferring applicatio
There is a fantastic feature designed in this Phone Data Transfer to switch data. It is capable of transferring contacts, photos and media files between iPhone and Android devices. The whole copy process is lossless with just one click.
With this excellent software, you don't need to reset your phone to factory setting and still be afraid of individual information divulging, just one click, it enables you to remove data on target mobile phone before copying.