Navigate to Top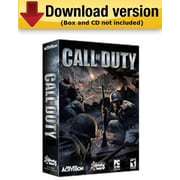 Call of Duty for Windows (1-User) [Download]
Item : 954324
In addition to authentic squad movements and tactics, each soldier's distinct personality and training comes out on the battlefield. No one soldier or nation single-handedly won the war.
For the first time, Call of Duty captures the war from multiple perspectives, through the eyes of American, British and Russian soldiers. Battle through 24 missions spanning 4 interconnected historical campaigns.
Take on mission objectives ranging from sabotage & all-out assault to stealth, vehicle combat & rescue. Authentic weapons, locations, vehicles & sounds of war all contribute to the realism, immersing you in the most intense World War II experience.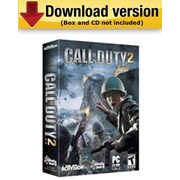 Call Of Duty 2 for Windows (1-User) [Download]
Item : 954325
All-new, unprecedented enhancements from stunningly realistic graphics to seamless game play. Beautifully rendered snow, rain, fog and smoke, combined with dynamic lighting and shadows, make this the most intense WWII shooter yet.
New conflicts and enemies to face: Call of Duty 2 brings you bigger battles, with more tanks, troops, and explosions on-screen, and bigger scope, with a wide range of locales and environments across the European Theater.
Fight 'The Desert Fox' across the scorching sands of North Africa as wave upon wave of tanks clash in the desert.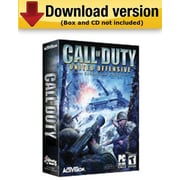 Call of Duty: United Offensive Expansion Pack for Windows (1-User) [Download]
Item : 954326
Fight in tanks, jeeps, motorcycles, even a bomber. Work with your squad through snow and rain, using new weapons including flamethrowers and deployable machine guns, or by calling in artillery strikes.
13 All-New Single Player missions spanning three campaigns. 11 exciting new Multiplayer maps and 3 new multiplayer modes including Domination, Capture the Flag, and Base Assault.
Note: Call of Duty required to be installed. MINIMUM SYSTEM REQUIREMENTS:3D Hardware Accelerator Card required- 100% DirectX 9.0c compatible 32MB Hardware T&L-capable video card and the latest drivers;