Navigate to Top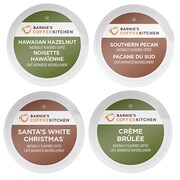 Barnie's Flavored Coffee Bundle, 96 Count (BLB0014)
Item : 24116328
Barnie's Coffee Kitchen Creme Brule - Enjoy coffee that combines the flavors of vanilla and caramel to give you a delicious and exotic taste of dessert any time of the day.
Barnie's Coffee Kitchen Hawaiian Hazelnut 100% Arabica beans with a wonderful blend of South and Central America. Enjoy the flavors of hazelnut and coconut mixed with the strong aroma of coffee.
Barnie's Coffee Kitchen Santa's White Christmas Enjoy the taste of Christmas in every cup of coffee that combines flavors of nuts, caramel, vanilla and coconut to give you a unique experience.