Navigate to Top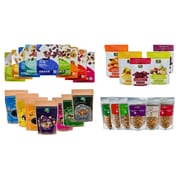 Great Snacks - Mega Pack! Healthy Dried Fruit Mixes Complete w/ Superfood & Nutsterz Spicy Peanut Mixes, 27/Pack (BDL0011-CP1)
Item : 24117125
Dried Fruit Healthy Pack by Basse - Pitted Prunes, Dry Figs, Apricots, Jumbo Raisins and Cranberries that make a good snack full of nutrition. Fresh and juicy for an incredible taste.
Healthy Snack Pack - Salted Pistachios & Cashews by Basse, Nut & Seed Mixes by Sahara, Royal & Deluxe, Dried Fruit & Nut Mixes by Exotic & Paradise, Cranberry Trail Mix & Smoky Almonds.
Superfood Pack - Basse Alive Mix, Good Karma Mix, Highvibe Power Mix, Relaxing Mix, Good Spirit Mix, Serenity Savory Mix, Buenavibra Performance Mix. Super mixes for super energy!