Navigate to Top
Bibles let you bring the power of religion home with you after leaving church every week. Teach children more about its teachings with books designed just for them with animated characters and colorful images on every page. Select one that is right for you and the rest of your family.

Excite Smaller Learners
Get young learners excited about religion with Bibles designed just for them. Available in smaller sizes that fit better in their hands, the books use bright colors and fun images to keep kids' attention while they're reading at home or during Sunday school classes. Biblical storybooks that focus on famous Christian figures appeal to the imaginations of young readers.

Learn More About the Bible
Learn more about the stories that you hear in church every Sunday with Bibles and books that offer accessible retellings of biblical stories. Use a daily devotional book to strengthen your faith and connect with your spiritual side throughout the week.

Give the Gift of Religion
Give the gift of religion to family and friends when you give them Bibles of their own. Opt for Bibles that come in gift boxes, those with leather covers, and those with designs that will appeal to readers of any age or personality.

Foster Your Spirituality
Go beyond religion and deepen your spirituality with body, mind, and spiritual books. These books teach you the basics of meditation, deep breathing, and other exercises that can help you connect your mind, body, and spirit and help you learn how you can carry your religion and spirituality with you every day.



More
Less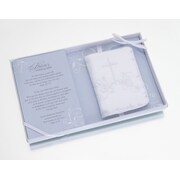 Lillian Rose™ English Wedding Bible With Cover
Item : 1173709
Gift set includes an english-language bible (2 3/4" x 4 1/2") and a white padded satin bible cover (3 3/4" x 5")
Bible cover is embroidered with a simple cross accented by two swirly leaf designs
Bible is the new testament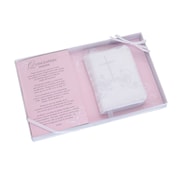 Lillian Rose™ Quince Anos Spanish Bible With Embroidered Cover
Item : 1173190
Dimensions: 2 3/4" x 4 1/2" bible, 3 3/4" x 5" cover
Gift set includes an english-language bible (2 3/4" x 4 1/2") and a white padded satin bible cover (3 3/4" x 5")
Bible cover is embroidered with a simple cross accented by two swirly leaf designs