Navigate to Top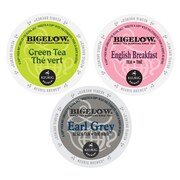 Bigelow Tea Bundle, 72 Count (BLB0015)
Item : 24116482
Bigelow Earl Grey Tea - A rich, black tea infused with bergamot oil from the sunny hills of Italy. The black tea is specially handpicked and blended with bergamot grown in the garden of Calabria.
Bigelow English Breakfast Tea Make your mornings special with this English breakfast tea procured from high elevation gardens. It is then processed to bring out the robust flavor of the tea.
Bigelow Green Tea - Handpicked green tea with a smooth and delicate flavor, procured from high elevation tea gardens. Enjoy a calorie-free cup of fine green tea that promotes good health.