Navigate to Top
Bike trailers offer a safe and convenient way to transport children, pets, and items while biking. Whether you're running errands or biking for sport, these trailers are designed for efficiency and comfort. A variety of lightweight bike trailers makes it is easy to find a compatible design.

Infant and Child Transportation
Bike trailers provide a great transportation option for parents on the go, with models built to suit passengers of all ages from infancy to childhood. Choose upright seats for a single child or classic three-wheel covered trailers that accommodate multiple children. Stroller trailers feature rear braking to stay locked when the bike is stationary.

Pet and Cargo Trailers
Whether heading out for a day of relaxation or commuting in less-than-optimal weather, choose from a variety of stylish pet trailers to travel with your best friend. Cargo-type trailers come in a range of shapes and sizes for the space-conscious traveler. Add on features or improve your chosen bike trailer to create a truly multifunctional bike with other bicycle accessories.

Easy Installation
Instantly convert your bike into a child- or pet-safe mode of transportation with a child bicycle seat, dog stroller conversion kit, or traditional bike trailer. Tool-free installation makes attaching a trailer to, and removing it from, your bike simple, and lightweight frames make the installation process even easier.

Versatile Design
Bike trailers are ideal for the city dweller who wants a stylish and cost-effective way to optimize the biking experience. Some bike trailers help you go from comfortably biking with children to carrying home a load of groceries. Convertible models are ideal for joggers and bikers who want to be able to switch easily between front and rear storage.



More
Less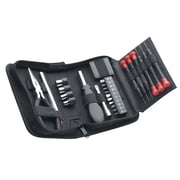 Allied Tools™ 25-Piece Mini Tri-Fold Tool Set (49032K)
Item : 554589
Mini tri-fold tool set for general maintenance
Features durable tri-fold zippered case
Includes driver with driver bits and extension, sockets, long nose pliers, precision screwdrivers and 3' tape measure