Navigate to Top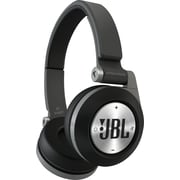 JBL Synchros On-Ear Bluetooth Headphone
Item : 20001019
Bluetooth-enabled technology for wireless calling and music play. Built-in ShareMe technology allows you to share your content with another set of headphones, simultaneously.
Built-in, USB rechargeable lithium-ion battery provides 16 hours of uninterrupted listening. And when the battery dies, the included aux cable allows for passive listening.
Ear-cup-based microphone with Pure Konnexx echo-cancelation technology allows for hands-free calling with a pure connection to your wireless device for clear, hands free calling.