Navigate to Top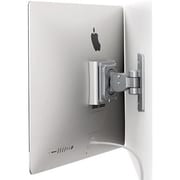 Bretford MobilePro HFSP2BG1 Wall Mount for iMac, Display Screen
Item : IM18N0940
Far Reaching Support - The MobilePro Adjustable Wall Mount provides up to 12 inches of horizontal travel to let you position your iMac or display in the optimal position. Keep it close to the wall, or extend it out to get a better view.
Low Profile Design - The MobilePro Wall Mount features a low profile design with +/- 45° tilt adjustment and 90° rotation that allows you to easily change your display from landscape to portrait, without the use of tools.
Portrait to Landscape - Every MobilePro Mount allows you to rotate your display 360 degrees, giving you the ability to easily switch your monitor from landscape to portrait, or lock it down in either position.