Navigate to Top
Smart cards have an increasingly wide range of commercial and personal applications throughout daily life. CHERRY card readers transfer the data on those cards into computers, tablets, and notebooks so that individuals can access and control personal and professional information efficiently.

Cherry Card Readers Provide Security
Plastic smart cards, the size of credit cards, have an embedded microchip containing data for information retrieval, commercial transactions, and personal identification. Smart card readers plug into the USB or micro-USB ports of computers and notebooks and have a card slot that serves as a conduit for transferring the smart-card data to the computer. The encryption-decryption features of Cherry smart card readers allow only the card user to have access to the data, so they provide a layer of security against computer network threats in addition to user-only privacy.

Cherry Card Readers Help You Run Your Home and Business
The security features of the readers make them essential as transaction and identification devices in the marketplace, workplace, and home. Readers in major grocery and retail stores provide point-of-purchase security. They are in professional offices and hotels to provide secure user-specified entry. A large majority of the readers meet federal FIPS 201 security standards governing personal identification verification for government employee and contractor work access. At home, readers enable home computer users to purchase downloadable entertainment like movies and music and control computer-based subscription services for cable or satellite TV. Cherry smart card readers are particularly valuable for conducting banking transactions from home or on the road, meeting home banking computer interface, and HBIC regulations governing electronic personal banking. Health services and agencies also use smart cards and readers to ensure only authorized personnel accesses sensitive patient medical records.

How Do Cherry Card Readers Work?
You insert the Cherry card-reading device into the USB or mini-USB port of your computer, notebook, or tablet. Its integrated software syncs automatically with your computer. The readers interface with computers and the smart card through a standard ExpressCard™ hardware slot and work with all standard communications protocols, including asynchronous T=0 and T=1 protocols and synchronous S9, S10, and I-squared C protocols. This versatility lets Cherry smart card readers transfer data quickly. The readers also meet the standard application program interface (API) protocols for computer integration, including PC/SC 2.0 driver, chipcard CT-API on top of PC/SC, and Open Card Format on top of PC/SC.

How Durable Are Cherry Card Readers?
Smart card readers accommodate hundreds of transactions and ID verifications daily. Most Cherry card readers have mechanical landing contacts rather than sliding contacts to read the fields on the cards, which creates less wear on the stripe. The contacts meet EMV 2000 Terminal Level 1 electromagnetic card-insertion compatibility. The readers have a rating for 100,000 insertion operations with 500,000 hours of MTBF.

Will Cherry Card Readers Work with Your PC or Mac®?
Cherry card-reading devices work with current Windows®, Mac®, and Linux® operating systems. They are even backwards-compatible with earlier versions of Windows and the Mac pre-OS X® series 10 versions.
More
Less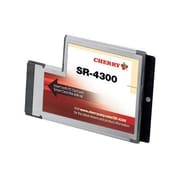 CHERRY SR-4300 Smart Card Reader With Express Card Interface
Item : IM1U60870
Smart card reader with express card Interface for integration into notebooks
Measures 0.2"H x 2.1"W x 3.1"D
Protocols of T=0, T=1, S=10, S=9, IsquareC, Smart Card Speed of Up to 412.903 bps, Interface of ExpressCard™ for flexible connections