Navigate to Top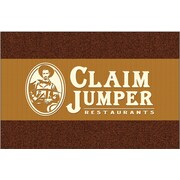 Claim Jumper Gift Cards
Item : SS1096397
Included in the gift card purchase price is a $1.99 Secure Shipping Fee. This covers trackable shipping through the US Post Office, to ensure safe arrival.
Multiple denominations available.
Claim Jumper Gift Cards never expire, do not have any hidden fees and are valid at all locations throughout Arizona, California, Colorado, Illinois, Nevada, Oregon, Wisconsin and Washington.