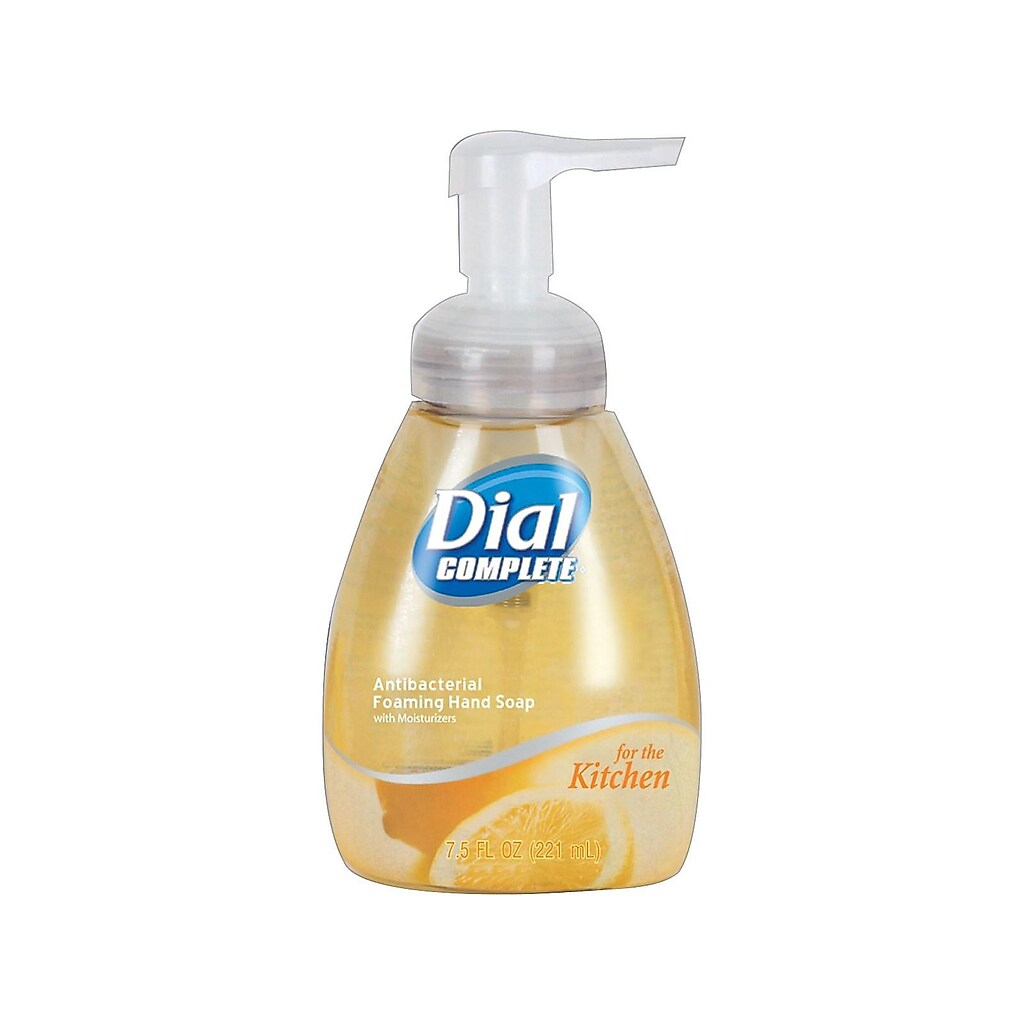 Dial Complete Antibacterial Foaming Hand Soap, Fresh Citrus, 7.5 Oz. (06001)
Item #: 848244
| Model #: DIA06001
This item is out of stock for delivery
About this product
Protect against unwanted germs, bacteria, and other residue with this 7.5-ounce Dial Complete foaming hand soap.
Avoid illness by washing with this antibacterial foaming hand soap. The convenient tabletop pump bottle efficiently dispenses soap to avoid waste, and the mild formula is gentle on skin even after frequent handwashing. This Dial Complete foaming lotion soap meets food safety regulations for hand sanitizing, making it ideal for restaurants and food service establishments.
Antibacterial foaming soap kills 99% of germs and provides an efficient way to maintain hygiene levels

Foaming soap leaves a pleasant citrus aroma

7.5 oz. pump bottle

Provides a high level of germ-killing action to stop the spread of infection

Contains moisturizers that help prevent your hands from drying

Hypoallergenic foam is as mild as water itself and gentle on skin, so it has less of a chance of causing flare-ups of skin allergies

Support the environment with this soap that uses recyclable packaging; safe for aquatic life
Gentle and Effective
This Dial Complete foaming hand wash is antibacterial, so it kills the germs and bacteria on your hands to help prevent cross-contamination. This formula contains moisturizers, so it is gentle on your hands to soften them as you wash.
Lemon Scent
A soft lemon scent will grace your hands after you wash them with this Dial Complete foaming hand wash. The scent isn't overpowering, so you don't have to worry about it offending anyone as you go about your day.
Easy to Use
This foaming hand wash has a pump on the bottle, so it is easy to use. Simply pump a bit of it into your damp hands, scrub your hands together, and rinse. With the easy rinse formula, your hands get clean quickly.
Safety Data Sheet