Navigate to Top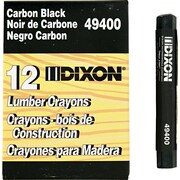 Dixon® Lumber Crayons, Carbon Black, 1/Dozen (49400)
Item : DIX49400
Permanent and waterproof lumber crayons mark on rough surfaces, such as boards, boxes, and concrete.
These extruded lumber crayons last up to 10 times longer than ordinary molded wax crayons. They're fade-proof, water-proof and smear-proof. Won't melt in direct sunlight and works on wet (green) or dry lumber, metal or concrete. Each crayon is individually UPC coded. Hexagonal shape fits lumber crayon holders.
Sets the standard for lumber crayons.