Navigate to Top
Diapers are an essential for anyone caring for a baby, and few things matter more than safety and dependability when choosing them. Dry Time diapers are reliable, breathable and sturdy with features such as antileak guards. Staples offers a variety of pack sizes so shoppers can choose an amount that fits their needs.

Diapers Made From Safe Materials
The material that a diaper is made from is an important consideration. Dry Time diapers are latex-free to prevent irritation, and they feature a cloth-like outer cover, which is designed not to chafe the skin, providing comfort and airflow and minimizing the risk of rashes. This cloth-like material provides the advantage of being breathable while preventing leaks with its impermeability.

Prevent Leakage and Ensure the Diapers Stay Fastened
Dry Time diapers feature foam-elastic waistbands that allow for flexible fitting and prevent leakage by sealing the diaper securely. These soft-foam waistbands are also designed to be comfortable against the skin to protect against irritation around the waist. The no-tear tape outer layer lets you fasten and unfasten the diapers efficiently and without damage. The tape tabs feature highly visible blue finger lifts that ensure an efficient changing process. Antileak guards also help prevent leakage and contain moisture, ensuring the exterior of the diaper remains sanitary.

Choose From a Selection of Pack Sizes
Staples offers Dry Time diapers in a variety of pack sizes to fit different needs. Packs containing 15 diapers are ideal for shoppers looking to try a particular brand for the first time or for those looking for a small supply. Packs of 120, 192 and even 240 diapers offer a cost-effective option for shoppers looking to acquire diapers in bulk.

Side Panels Allow for Airflow
Dry Time diapers have breathable side panels designed to encourage airflow to increase comfort and further reduce the risk of irritation and chafing. Airflow is especially useful in hot weather because it reduces heat and moisture accumulation, helping the diaper remain comfortable for longer periods of time.

What Are the Benefits of Latex-Free Diapers?
A latex allergy may develop when an individual is frequently exposed to latex, so latex-free diapers help to prevent this and are safe for use if a baby or caretaker already has an allergy. Latex-free Dry Time diapers offer leakage protection and comfort without the downsides of latex.

How Can You Find the Diaper Size Your Baby Needs?
Diaper sizes range from 1, usually for premature babies, through 6, which are suitable for infants weighing 35 pounds and over. Sizes are based on the weight of the baby or toddler. The flexibility of the waistbands allow for snug fits around a range of waist sizes.

Is Buying Diapers in Bulk Worth It?
The average family goes through a vast amount of diapers in a year when caring for a single baby. The large packs of diapers are usually a cost-effective option to consider and allow shoppers to acquire many items at once to maintain a large supply.
More
Less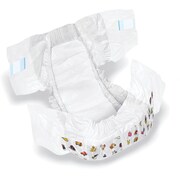 Dry Time® Baby Diapers
Item : SS1100074
Baby Diapers Type.
Latex-free.
Feature breathable side panels for increased airflow and comfort, a cloth-like outer cover that is comfortable against skin to help minimize the risk of irritation and rashes, and anti-leak guards for maximum containment.