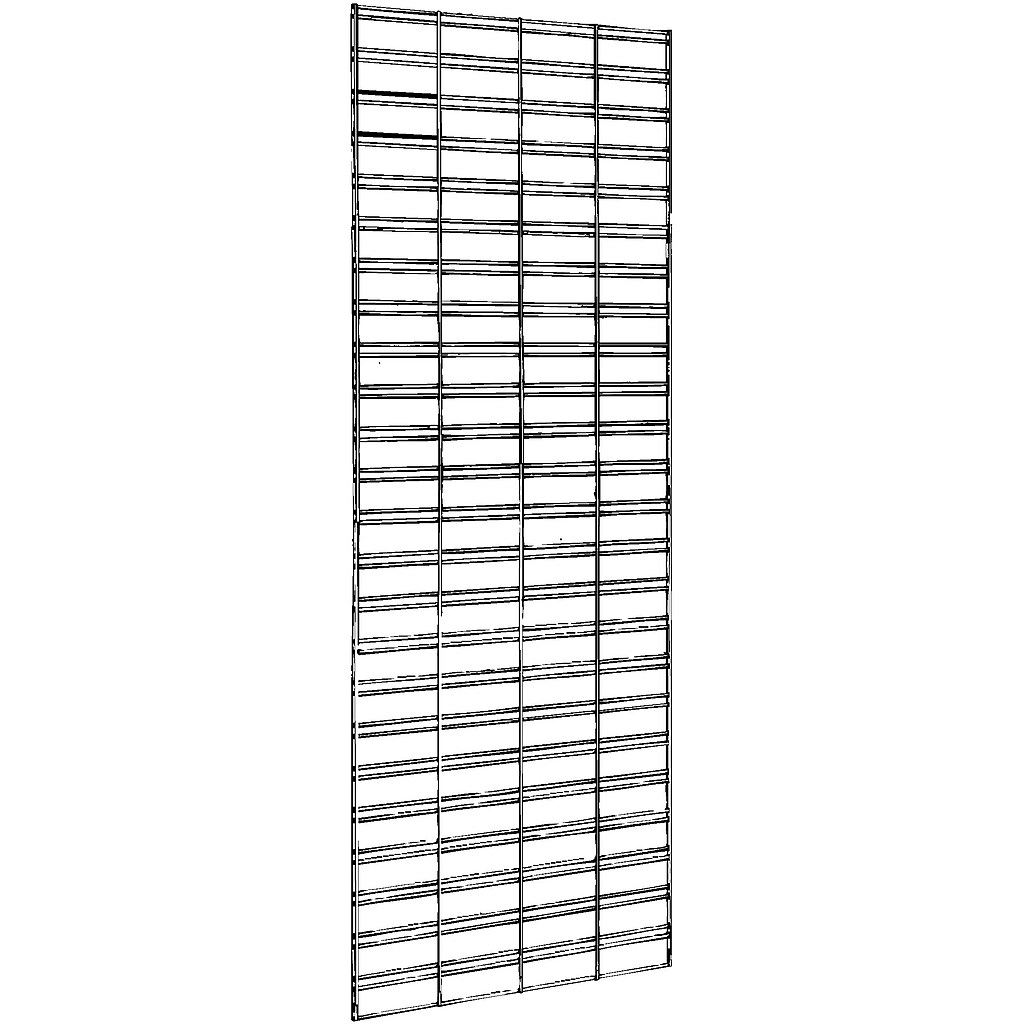 Econoco P3STG26B Slatgrid Panel, Black, 6' x 2'
Item #: 218717
| Model #: P3STG26B
This item is out of stock for delivery
About this product
Econoco Black slat grid panel measuring 2" x 6" allows retailers to use different types of slat wall accessories and has the versatility of a grid panel.
Econoco 6' x 2' Slatgrid panel in black color, has metal construction for enhanced durability. Perfect choice for all cost-effective display in retail shops. This panel secures to almost any type of merchandise with its grid pattern. Uses 1/4" thick wires for withstanding heavy display hanging. Suitable to use with slatwall/gridwall brackets, faceouts, hooks, baskets and wire shelves for maximizing storage option, sold as 3 per pack.
Comes in black color for an attractive look

Metal construction for enhanced durability

1/4" Dia Steel wire holds item without bending/twisting

Great choice to connect with other panels to maximize display option

Double wire welded sides of grid enhances rigidity

Measures 6' x 2'

Portable design for convenient carrying

Perfect for use in trade shows/temporary stores/fashion showrooms

Sold as 3 per pack

Black

Strong and versatile, slat grid panels can be used on the wall or as free standing displays with bases, legs and connectors

Material/construction: Metal

Dimensions: 6'(H) x 2'(W)

Finish: Semi-gloss

Thickness: 1/4"

Contains double wire on each end for added support and made of sturdy 5.4 mm wire

Will support any type of display utilizing both grid or slat wall shelves, all-purpose baskets, slat wall or grid faceouts or brackets with hangrails for just about any type of merchandise

Grids are portable and can be used over and over again in a variety of retail applications including trade shows, temporary pop-up stores and fashion showrooms
Unlimited Display Possibilities: Econoco Black slatgrid panel optimizes storage space of retail shop by neatly organizing accessories for display. Use as a single unit or connect with other panels to maximize storage area. This panel easily mounts on to ceiling/wall or attached with brackets for offering freestanding display. Durable Construction: 6' x 2' Slatgrid panel has heavy-duty metal construction for providing rigid support to suspended items. Double wire welding on the vertical sides of each grid formed by 1/4" thick wire prevents bending and buckling.