Navigate to Top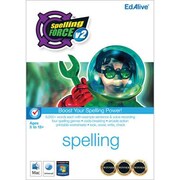 EdAlive Spelling Force v2 for Mac (1 User) [Download]
Item : 239392
Word lists include phonics, frequency, word-building, thematic - even word origins and homonyms!; Simple, kid-friendly, animated interface that enhances self-directed learning; Suitable for ages 5 - 15+.
The Scenario: Spell your way out of a nuclear disaster playing awesome spelling games with your chosen word list: save the ship's gravity pods, launch an escape rocket, and salvage damaged space probes; have fun and boost your spelling power.
This module displays the spelling word on screen while the child looks at it. The word is then covered while the child writes the word by typing it from memory. Once completed, the spelling is checked for correctness.