Navigate to Top
Easily transfer your important files between devices with an Edge card reader. The simple design allows users to quickly slide memory cards and flash drives into the designated ports to access the information saved on those devices. Staples® carries a large selection of card readers and adapters, including Edge all in one card readers, to suit a variety of data management needs.

An Edge Card Reader Works With Multiple Memory Formats
These card readers come equipped with multiple slots in varying sizes; each meant to work with a different memory card or flash drive. Many Edge models are capable of working devices with various memory card formats such as Micro SD, CF, SD, MMC, RS-MMC4.0, RS-MMC, MMCII, Memory Stick PRO DUO™, Memory Stick DUO XD™, MS-DUO™, MS-ROM, and Micro Drive devices. It makes it simple to pop these cards out of any device and feed them into the reader to view on a desktop computer or laptop.

Edge Card Readers Allow Users to Work on Files Directly from the Source
By providing direct access to the files on the memory card, these readers make it simple to work from and edit original documents, photos, and videos created on other devices. It saves time and ensures all devices using that memory card have the most up-to-date version of the file at any given moment. This option also allows users to more easily access the files by providing a simple way to download them from devices without the need for excess cords and programs to access the information.

What Operating Systems are Edge Card Readers Compatible With?
Their universal design is compatible with a range of computer operating systems for your convenience. Many models work with the most recent version of Windows® all the way back to Windows 98. They are also compatible with the newest version of the MAC® OS, as well as Linux™ 2.4 or later. The flexibility to work with different operating systems makes it easy to plug the card reader into whatever device needs card reading capabilities.

How Much Space Does an Edge Card Reader Need?
These devices are built to be lightweight and compact, taking up very little room on the desktop or floor. Many models measure no more than a couple of inches wide and stand just a half-an-inch high. Their small nature makes it easy to carry them with you in a computer bag, briefcase, or purse to access files on the go. That portability also allows users to quickly share information with other computers no matter where they are.

How Do You Set Up an Edge Card Reader?
Setup for these devices is simple and user-friendly. They connect to both PCs and MACs through a USB 2.0 port. Once the device is plugged in, users have immediate access to the external hub. Simply insert a memory card or flash drive with the desired information into the corresponding slot and wait for it to register. Once the card is read, users have full access to the contents on that device.
More
Less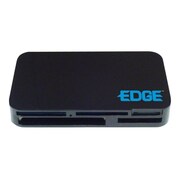 Edge™ PE233433 Black All-in-One USB Memory Card Reader
Item : IM1YD2592
All-in-one card reader to transfer photos, videos and more from a flash card to a computer
Suitable with CompactFlash I/II, Memory Stick Duo/Micro (M2)/PRO/PRO-HG Duo/Microdrive/MMC/SD/SDHC/SDXC/microSD/microSDHC/microSDXC
Interface: USB 2.0