Navigate to Top
Exaco Trading Company offers a unique line of high-end, European-derived products for growing healthy lawns and gardens according to Green standards. Some of the brand's products include composters, greenhouses, cold boxes, rain barrels, garden planters and garden structures.

Use Exaco Composting Bins for Environmental Reasons
Many European families use composters to discard household food waste and yard debris and turn it into compost for a nutrient-rich garden bed. But these bins also reduce the amount of waste thrown into landfills, as well as the amount of methane that decaying matter gives off. Methane is a major source of greenhouse gas emissions. All Green composters, whether simple or complex, make a significant contribution to eco-sustainability.

Consider the Benefits of Exaco Compost for Your Garden
Growing gardens can be a labor of love or a commonsense way to save money. You want the best soil possible for your flowers or produce. Compost is organic matter that feeds the garden soil directly with nutrients, plus helps plants absorb nutrients more efficiently. It also helps balance the composition of the ground. If it is too sandy, compost helps it retain water more readily. If it is too dense and clay-like, compost aerates it and allows more water saturation.

Do Exaco Offer Different Types of Composting Bins?
Yes, the company offers composting bins that range from tabletop and kitchen composters to heavy-duty multi-bin yard composters. The composting bins consist of both anaerobic models, which require manual manipulation of waste to turn the mix into nutrient-rich soil, and aerobic models, which use air slots and gravity to compost waste over time.

Can You Get an Exaco Composting Bin That's Simple To Use?
The company offers indoor plastic composters that are small barrels or buckets with 2 or 3-gallon capacity. They start the composting process by holding kitchen waste until the unit is full, which is then ready for dumping into outdoor composting bins. Many of these indoor compost-starter buckets have carbon filters to reduce odors while the organic mix awaits outdoor dumping.

Other small bins are outdoor models with three compartments. The waste material goes into a top bin and when the compartment is full, the material drops into a second, digestive compartment with a simple panel release. Push-pull tools churn the mix, and then it drops into the compost chamber, where the mix is available from a pullout drawer bin.

How Do Anaerobic and Aerobic Exaco Models Work?
Dual-purpose composting bins break kitchen and yard waste into compost using a combination of integrated anaerobic mixing tools and aerobic ventilation-gravity. They have large openings to accept waste, with sealed flaps to contain odors that might attract insects. The top mix requires just a gentle turn before ventilation slots begin the breakdown process. After a set time, a discharge flap drops the mix into a second chamber, where it gets more aggressive ventilation. The mass then gravity-drops into the maturing chamber, where mechanisms churn compost into a bottom drawer.

Some composting bins offered by Exaco do not require any turning of material at all. Most of these models have a large, 200-plus gallon capacity and accept a mix of wet and dry materials, including food scraps combined with leaves and newspaper. The decomposition process consists of an internal "lung" system that keeps micro-organisms working constantly with a continuous airflow.
More
Less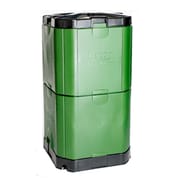 Exaco 104.71 Gal. Stationary Composter
Item : WYF078277971319
Material: Double-wall, polystyrene insulated, polypropylene
Produces compost in freezing weather
With a patented ''Lung'' ventilation system that eliminates the need for turning