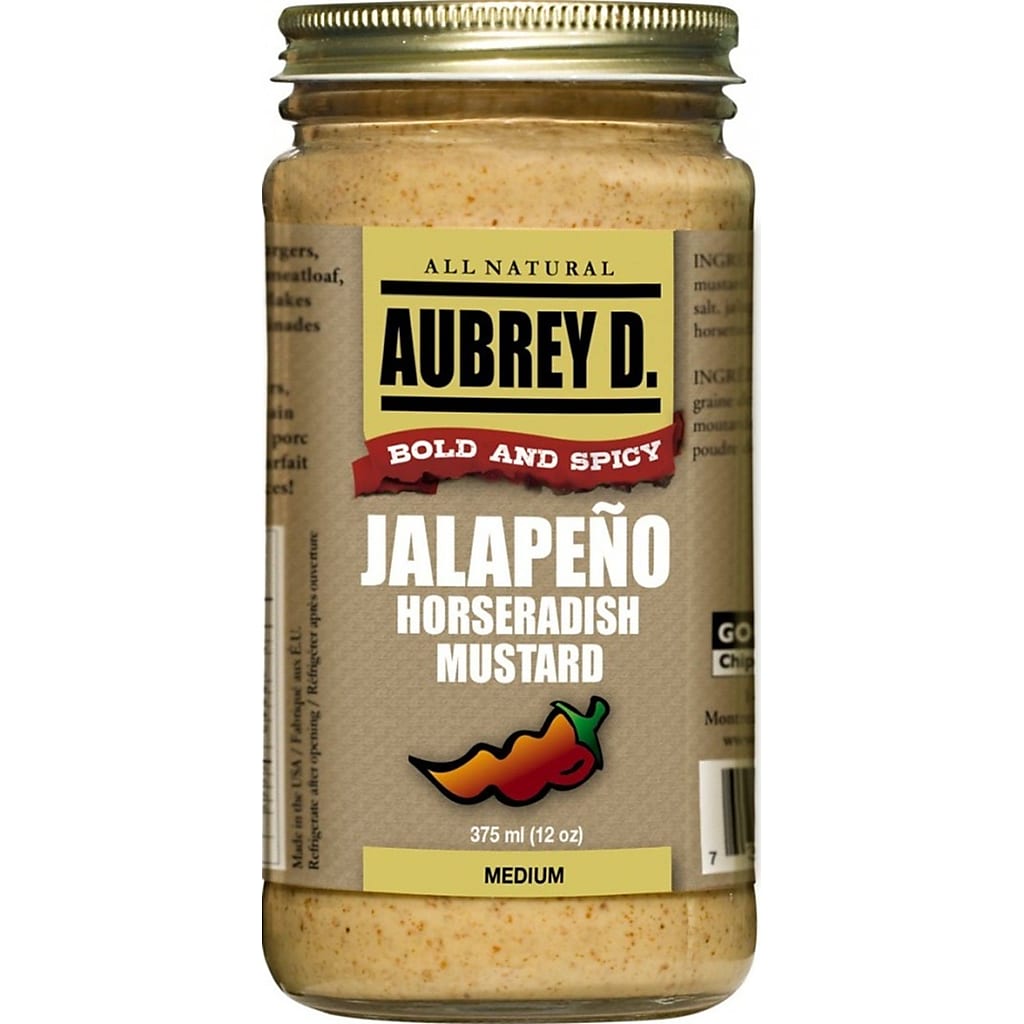 Exotic Jalapeno Horseradish Mustard by Aubrey D., 2/Pack (620023)
Item #: 24117297
| Model #: CE1003725-B02
This item is out of stock for delivery
About this product
Mustard with Horseradish to be enjoy on sandwiches, burgers, hot dogs, steaks, chicken, meat-loaf, wings, pork or even fish!
All Natural. No Additives. Preservative Free. No Artificial Ingredients. Gluten Free. Kosher.

Intense taste from an age old recipe handed down over the years that still retains the originality.

Exotic ingredients consisting of horseradish, vinegar, mustard bran and jalapenos for a rich taste.

Known to taste best with roast beef as it enhances its taste and adds a unique flavor.

Versatile use with hams, veggie sandwiches, pork, meat loafs, fish, salads or any side dish.

A gourmet and epicurean delight for food lovers who love a little pungency in their dishes.

Exquisite condiment for a variety of foods as it is versatile in taste and rich in flavor.

Hand crafted, handmade and hand packed in small batches to preserve original flavor.

Has rich and grainy vinegar mustard based texture and adds a vibrant color to your dish.

Kettle made for that exquisite bold whole bodied flavor ensuring the best quality and aroma. Has a lingering taste that of exquisite jalapenos that makes it a add on for a side or a main dish.
As far back as the 16th century, cooks have been preparing Mustard with Horseradish to be consumed with Roast Beef and the recipe has change little in the last 500 years Until now! This exquisite condiment is so good it can be used on so much more that just roast beef. Try it with ham or in a veggie sandwich. This is definitely a mustard that you need in your pantry! All hand made and hand packed. Made with passion, using only the best and freshest ingredients. Made in small batches. Highest quality, full bodied flavors, vibrant colors wonderful aromas. Hand crafted in small individual kettles to bring out the very best in flavors and tastes. Every condiment incorporates the lingering bite of exquisite jalapenos that will bring wonderful flavor and nice light bite to any dish from BBQ's to a wonderful gourmet epicurean meal. Once a meal has been enhanced by one or all of Aubrey D. and Rebel Sauces, you'll never go back to "ordinary" again......