Navigate to Top
Fantasy Fields kids' chairs by Teamson Design bring high-end style and comfort to any home or classroom. These child-sized furnishings are designed to withstand everyday wear and tear, providing years' worth of durable performance as kids learn and grow. Staples carries a range of high-quality desk chairs, time out benches and garden stools that are sturdy and economical for a range of household needs, educational use and commercial purposes.

Fantasy Fields Children's Chairs Are Durable and Eco-Friendly
Every chair, bench and stool is individually hand-crafted from recycled pressed wood and decorated with non-toxic, lead-free paints, ensuring safe handling by children of all ages. Select outdoor models are made from weather-resistant wood, offering enhanced resistance against the elements.

Each piece is carefully sanded for extra comfort and user safety, many featuring decorative accents such as rocking legs and easy-carry handles for added functionality and maneuverability. The low-maintenance surfaces clean up quickly with a soft cloth so teachers and parents can focus on priority tasks.

A Variety of Whimsical Designs to Spark Any Child's Imagination
Fantasy Fields' children's chairs come in several colorful designs with themes such as pirates, princesses, zoo animals, flowers and dinosaurs. Whether kids prefer a room inspired by an enchanted woodland or enjoy playing make-believe with vehicles, every piece is sure to help them tap into a world filled with creative possibilities as they gain independence around the home or classroom.

Some benches and stools feature built-in storage so children and parents can quickly store away toys and books once playtime is over. Several also come with slip-resistant feet so little ones can use them to reach sinks, counters and shelves with adult supervision.

Coordinate a Room With Matching Fantasy Fields Furnishings and Accessories
It's easy to create a well-coordinated study corner or nursery with a suite of matching Fantasy Fields kids' chairs and decorative accessories. Choose from a variety of matching tables, vanities, coat trees and wall clocks that complete a space, providing kids with comfort and inspiration as they tackle homework, read a story and settle down for bedtime. Owners of libraries, daycare facilities and retail shops may want to stock up on multiple pieces to accommodate large groups of children, ensuring every guest has easy access to books, art supplies and workstations.

Is Personalization Available for Kids' Furnishings?
Customization is not available for Fantasy Fields furnishings, although users can easily personalize pieces using acrylic craft paints or paint pens.

Do Fantasy Fields' Chairs for Kids Require Assembly?
Many chairs arrive fully assembled out of the box, while others may require a minor amount of assembly using basic tools such as a Phillips-head screwdriver. For user convenience, easy-to-follow instructions and the necessary hardware come packed inside each box.

What Is the Maximum Weight Capacity of Child-Sized Chairs?
The maximum weight capacity varies depending on the style of chair, stool or bench. Some furnishings support weights of up to 50 pounds, while others can handle users weighing up to 100 pounds or more, making them safe for use by most young children.
More
Less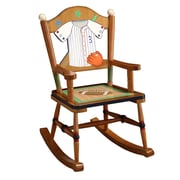 Fantasy Fields Kids Rocking Chair
Item : WYF078276246011
Hand carved design with durable wooden construction designed by Teamson Design Corp
Perfect addition to playroom or nursery
Weight Limit: 100 lbs