Navigate to Top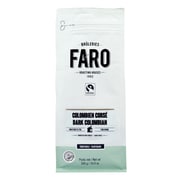 Faro Dark Columbian Filter Grind Coffee (10oz) Organic And Fair Trade 100% Arabica Dark Roast Bold Coffee (P-30800)
Item : 24116584
Faro Roasting Houses have traveled the world since 1982 in search of the best coffee producing regions and roasting techniques in order to bring you coffee of the very highest standards.
10 oz. bag of filter grind Dark Colombian coffee from Faro, with a dark roast profile for a bold, strong brew with a full-bodied cocoa texture.
Our 100% Arabica coffee is certified Fair Trade and Organic: We care about quality and work to create a sustainable environment and future for coffee producers across the world.