Navigate to Top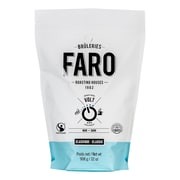 Faro Classic "Volt" Intense Coffee, Very Dark Fair Trade Certified Organic Ground Coffee Beans, 2 lbs.
Item : 24117454
Arise & Aroma: Deep as a cave, dark as night, this intense coffee will put oomph into your morning and high voltage into your day. A swarthy complexion and noir mystery, the superhero dark knight of bold coffee always saving the day.
Blend & Believe: A blend could be bland or a blend could make you believe. Culled from four distinct locations and blended together with surgical precision, producing a cup of blended belief that is unbelievable.
Volt & Revolt: This specialty coffee will knock some sense into your head while knocking you off your feet. Experiencing life through the volt filter inspires you to revolt against everything boring and flat, turning the blase into the blaze.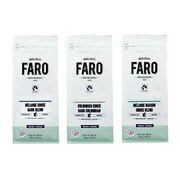 Faro Dark Blend, Dark Colombian, House Blend Organic and Fair Filter Grind Coffee Assortment Gift Pack, 3/Pack
Item : 24117472
Faro Dark Blend Filter Grind Coffee - A strong, dark roast coffee with an amazing rich taste giving you a power-packed kick-start. The perfect filter coffee for home, office or cafeterias. Just keep a pot on the go to energize your day.
The Dark Blend coffee is roasted in small batch ovens before being ground, so as to ensure an even and consistent roast profile resulting in great coffee full of aroma and flavor every time you brew!
The full body and intense flavor of the coffee beans make them perfect for mornings, after dinner or to share with guests. A strong, dark roast coffee blend with a rich taste and a powerful kick to keep on the move!