Navigate to Top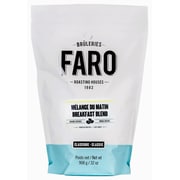 Faro Classic Breakfast Blend (2 lbs.) Light And Medium Roast Whole Bean Coffee Blend 100% Arabica (P-28025)
Item : 24116346
A 2 lb. bag of Faro Classic Breakfast Blend. These delicious and versatile 100% Arabica whole coffee beans make for a great start to your day.
Our Breakfast Blend is has a light medium roast profile for a medium body, a slight earthiness, and a flower aroma with an irresistibly smooth finish.
Sourced from Central America and Africa, we've used only the very best 100% Arabica beans in this blend, ensuring a high quality brew every time.