Navigate to Top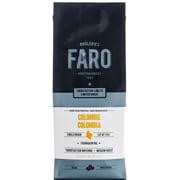 Best Tasting Faro Limited Roast Columbian Coffee Whole Beans (0.8lbs) Tierradentro Single Origin Single Farm Arabica Beans
Item : 24117335
Sense & Scents: The best taste has a gorgeous profile. Robust body with a citrus shimmer, flowing tresses of chocolate and swaggering herbaceous hips. Eyelashes flutter dreamily without realizing it. Yum, utter drinkable peacefulness wafting through universes, like a breath of fresh air leaving more than a memory.
Origins & Originals: A unique group of indigenous families dedicate their waking hours in Tierradentro to farm and fashion the most well rounded beans high up (1600-2100 meters) in western Columbia off the Pacific Ocean. Arabica beans, Typica and Caturra varietals, glittering soil births ingots of beanie gold.
Roast & Boast: You have impeccable taste. You deserve a cup of coffee with impeccable taste. Taste is the result of focus and commitment. Your morning cup (also noon, eve, or night) requires a layering of taste atop of taste. The roast of these beans unleashes its flaming tongues of boast.