Navigate to Top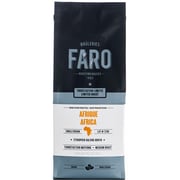 Faro Limited Roast Ethiopian Whole Coffee Beans, Yirgacheffe Unusual Coffee Unusually Great African Coffee, 0.8 lbs.
Item : 24117404
Sense & Scents: The brightest morning opens with the brightest cup of coffee. Jam-packed with flavors of jam jamming away to create a balanced profile. Fruity flavors tango with acidic astuteness, teased by whispers of spring flowers, a true jam session. Lightly tangy touch, this specialist coffee is especially untouchable. Small batch, massive flavor, wholesome whole coffee beans.
Origins & Originals: Unusual coffee, unusually good, is born at the origins of earth, up close to heaven, 1800 meters high in southern Ethiopia. These African beans are simultaneously heavenly and earthy. Unusual indeed. Unusually magnificent.
Roast & Boast: You are a specialist. You require a special coffee experience. This calls for special beans. Your morning (noon, eve, or night) cup must swirl with special qualities. Regular coffee is, well, regular. Only these specialist beans brew spectacular flavors.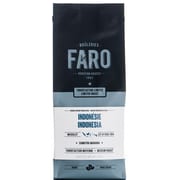 Faro Limited Roast Indonesian Whole Coffee Beans, Authentic Sumatra Wahana Single Origin Single Farm Coffee Beans, 0.8 lbs.
Item : 24117388
Sense & Scents: An artisan roast-master wakes up every morning just to roast the perfect bean for you. Deep, dark gourmet coffee beans, with high notes of chocolate and vintage winery grapes, a bouquet reminiscent of spring grasses and dewy woodlands, result in a micro-lot medium roast of maximum flavor.
Origins & Originals: Your elevated cup of coffee begins at an elevation of more than 1000 meters in the Sumatra island mountains of Indonesia. Ancient volcanic eruptions around Lake Toba form soil feeding a single origin farm of Typical beans with atypical luxury. Farms rotate bi-monthly for utmost uniqueness and peak range. Single Origin. Singularly Original.
Roast & Boast: You are unique. Your coffee should be too. The passion found in these luxury beans will release the luxurious passion in your every morning, afternoon, evening, or nighttime cup. Anytime you put this unique bean to your lips your uniqueness is accentuated.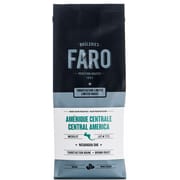 Faro Limited Roast Nicaraguan Coffee Beans, Single Origin Single Farm Strictly High Grown (SHG) Maragogype Whole Beans, 0.8 lbs.
Item : 24117396
Sense & Scents: Where there's fire there's smoke and here there's smoke, lot's of smoke. Cocoa, black soil, washed zing, the remnant afterglow of a camping fire, part cowboy, part rancher, mildly spicy, spicily sweet, fully delicious.
Origins & Originals: Climate and altitude are essential. Higher altitude generates higher quality beans, equilibrium of controlled acid and released energy. 1400 meters up under the mountainous leafy shade of Central America where Nicaragua meets Honduras, Strictly High Grown (SHG) coffee reaches strictly high flavors.
Roast & Boast: It's not about getting high. It's about drinking a cup of royal highness. We don't boast about our roast, we merely toast life and its heights. Wake up every morning to these high beans and every point of your day will be a high point.