Navigate to Top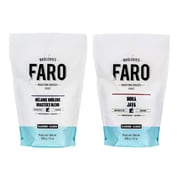 Faro 100% Arabica Classic Roaster's Blend and Fruity Moka Java Fine Grind Coffee Beans Gift Pack, 2 lbs., 2/Pack
Item : 24117433
Faro Roaster's Blend, Fine Grind Coffee Beans - create the perfect everyday coffee with this versatile blend. The 100% Arabica coffee beans sourced from Papua New Guinea, Ethiopia and Tanzania, with a medium roast profile are irresistible.
Enjoy your Roasters Blend black or add milk or cream to create your personal coffee preference or even a little tipple for an indulgent coffee treat. Enjoy irresistible brews with a powerful dark chocolate flavor and subtle hints of berry.
Vary the amount of ground coffee you use as per your preferences. You can play with every portion to create a stronger or weaker cup as desired, helping you stay perfectly balanced all day long.