Navigate to Top
Faro Italian Espresso Forte Whole Coffee Beans, 2 lbs., (P-28023)
Item : 24116558
The ultimate luxury Italian coffee: strong espresso with a luscious crema, brown sugar aroma and full-bodied texture and flavor.
Faro Italian Espresso Forte Whole Coffee Beans are a unique blend of Robusta and Arabica beans from South America: Brazil, Guatemala and Peru.
Espresso Forte strikes the perfect balance between the earthy depth of coffee from the Indo-Pacific and the bright, lively spiciness that's characteristic of the Americas.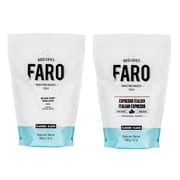 Faro Arabica and Robusta Blend Medium Roast Classic Cohiba Dolce and Italian Espresso Whole Coffee Beans Pack, 2/Pack
Item : 24117242
Faro Classic Whole Beans Cohiba Dolce Whole Coffee Beans - Sourced from Burundi, Tanzania and Ethiopia, this 100% Arabica coffee beans ensure a very highest quality coffee right in your kitchen any time of the day.
The Cohiba Dolce blend gives a rich, enveloping cup with the inviting aromas of caramel and orange. Savor the raw and unique flavors black or with milk, cream or sweeteners as per taste.
The Classic Cohiba Dolce beans have a light to medium roast profile, eliminating bitterness and enhancing the luscious natural flavors and aroma. For a fresh coffee, grind whole beans just before brewing for the optimum crispy taste and aroma.