Navigate to Top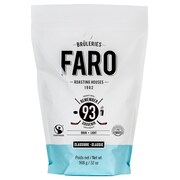 Faro Classic "Remember 93" Gourmet Coffee Beans, Fair Trade Certified Organic Small Batch Whole Bean Coffee Beans, 2 lbs.
Item : 24117421
Arise & Aroma: Scent triggers memory. Scintillating scent triggers scintillating memory. The perfume of this cup begins with nostalgia and ends in red berries on ice.
Blend & Believe: Victory is part practice, part skill. Our blend is part years of practice, and part belief in our skill. A specialty coffee and a victorious result is the outcome of natural talent and hard work.
Fire & Ice: We remember a victory on ice with a cup of fire. This organic, fair trade coffee makes old memories new again and makes new life experiences older than time itself.