Navigate to Top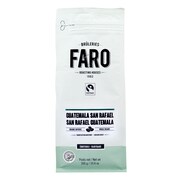 Faro Exclusive Guatemala San Rafael Whole Bean Coffee, Certified Organic And Fair Trade Coffee, 10 oz.
Item : 24116582
10 oz. bag of whole bean Faro Guatemala San Rafael Coffee, deliciously complex and irresistible aromas of sweetness and Guatemalan spice.
100% Arabica beans are Certified Fair Trade and Organic, so you're doing your bit for the planet and the lives of coffee farmers around the world.
Choose whole beans for the ultimate control over your brew. Grind just before use to your desired consistency, and serve black, with milk or cream, or as a luxurious cappuccino or cafe latte.