Navigate to Top
Using wheelbarrows or lawn carts makes it easy to move heavy gardening materials, such as soil or mulch, and reduces back strain. Extend the life of these products by utilizing Flat Free tire accessories.

Excellent Carrying Capacity
Available in different sizes designed to meet the needs of casual gardeners or professional landscapers, carts and wheelbarrows often haul large loads and have wheels that roll smoothly over lawns or landscaped terrain. They typically hold between 2 and 6 cubic feet of mulch, dirt or other materials, and heavy-duty products can support up to 1,000 pounds. Casual gardeners or people with smaller yards may prefer a smaller cart since they're easier to maneuver and take up less space when stored. A high-capacity cart or wheelbarrow is ideal for farmers, landscaping professionals or serious gardeners who regularly move heavy loads.

Lawn Carts Simplify Material Transportation
These products come in several styles. Yard carts typically have two or four wheels. Their wide and low design provides sturdy support for heavy loads, but they may not fit into tight spaces. Bucket-shaped carts have plenty of space for loose materials such as grass clippings, leaves or mulch. Flat-bed wagons make it easy to move bagged materials, garden pots or flats of seedlings. Some carts have steerable front wheels that enhance maneuverability. Flat-bed wagons with removable sides or extra storage racks offer additional load-carrying flexibility.

A wheelbarrow has a single front wheel and two rearward-pointing handles. You can maneuver the wheel into narrow gaps, making these tools an excellent choice for placing mulch around established plants. Most also have a metal foot in front of the tire and a curved bed, a combination that makes it easy to tip the wheelbarrow upright and dump the load. They do require some strength to use effectively since the user must bear part of the weight.

Carry Loads for Many Seasons
Featuring durable materials and sturdy construction, yard carts are built to withstand harsh outdoor conditions. Poly-plastic carts are rust- and weather-proof, and strong steel wheelbarrow beds easily handle challenging materials like gravel or concrete. Many carts have pneumatic tires that roll smoothly over rough surfaces, and carts with built-in storage trays keep tools near at hand.

Easy-to-maintain Outdoor Equipment
Proper maintenance extends the service life of your tools. Check the air pressure in pneumatic tires and inspect wooden wheelbarrow handles for damage. Accessories such as replacement handles and Flat Free brand puncture-proof tires and tire sealant tubes make it easy to repair damaged equipment. Some tires have bearings that allow the wheel to turn freely. You may need to grease these components occasionally to ensure proper operation. Wash down carts with a garden hose after each use and let them air dry in a sunny location. Store equipment in a protected area when it's not in use.

Transporting and placing heavy materials such as topsoil, mulch or gravel are common gardening tasks. The right landscaping equipment makes it simple to move these items where they're needed. Browse the gardening tools and accessories available at Staples and find the right wheelbarrow or cart for your next outdoor project.
More
Less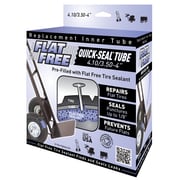 Flat Free Quick Seal Tube
Item : SS3563836
Available in various sizes
Sealant will seal tube punctures up to 1/8"
Tube is pre-filled with flat free tire sealant