Navigate to Top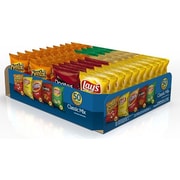 Frito Lay Variety Pack 1 oz. Bags, 50/Pack
Item : 1508124
50 Individual Snack Size Bags, Frito Lay Classic Variety Mix includes: 8 Dorito Nacho Cheesier, 16 Cheetos Crunchy, 10 Fritos Corn Chips, 12 Lay's Classic Potato Chips, 4 Lay's Sour Cream & Onion, Made in the USA
Made in USA
Shipping Weight: 4.12 lbs.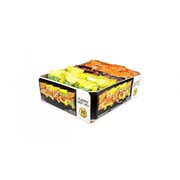 Frito Lay Flamin' Hot Mix, 30 Count
Item : 2437144
Flavor: Variety
30 Bags per Box
8 Flamin Hot Cheetos, 5 Flamin Hot Chester's Fries, 6 Flamin Hot Muchies, 6 Flamin Hot Funyuns, 4 Flamin Hot Limon Crunchy Cheetos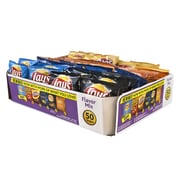 Frito Lay Flavor Mix Chips Variety Pack, 1 oz., 50 Count (05804)
Item : 24171767
Fifty individual bags of Frito-Lay Flavor Mix Chips in 6 different varieties.
Selection at your fingertips with this NEW mix from Frito-Lay, now with even more of the flavors you love.
Perfect for the vending machine or office break room for your mid-day munch craving.