Navigate to Top
Fax machines let users transmit documents quickly between locations, whether within the same complex or miles apart. An HP® fax machine combines the benefits of quick transfers with user-friendly speed dials and large memory capabilities. Staples® carries a variety of fax and all-in-one options that meet the needs of small and large businesses.

An HP Fax Machine Provides Quick Document Transmittal
Users need only push a few buttons on a fax machine to send information to whoever requires it, without relying on a computer or mobile device. Simply feed the pages into the machine, dial the correct fax number, and the recipient receives the information in just a few minutes. This process speeds up information sharing between offices and eliminates the need to scan or upload printed documents. A fax machine also maximizes productivity by freeing up messenger employees for other job duties. A standalone machine also reduces queues so users don't have to wait for others who are making copies or grabbing print jobs.

Understanding an All-in-One HP Fax Machine
HP carries a range of all-in-one machines that include fax functionality. These options provide copying, printing, scanning, and faxing capabilities, eliminating the need for multiple machines in smaller offices. All-in-ones come with either a laser or inkjet printer, ensuring an option that handles the printing needs of most offices. A color scanner provides clear copies of graphic files, with some letting users convert scanned text into documents. The fax portion of all-in-ones features automatic document feeders that let you scan an entire stack of pages without adding them one at a time. Users can also choose a device with memory card readers for accessing documents saved on other devices.

What Does an HP Fax Machine Need for Operation?
Traditional HP fax machines require a phone line for sending and receiving information. Small businesses can use a single line for both the phone and fax or a dedicated line for each. When using a single line, the fax machine screens calls or operates on a delay that provides time for the user to answer an incoming voice call. Most all-in-one machines utilize an internet connection, providing the option of using an eFax service or a phone line, depending on the availability in the office.

When Is a Standalone HP Fax Machine the Right Option?
Businesses that transmit many faxes each day may benefit from a standalone machine. Users can use the machine whenever necessary without tying up phone lines. A standalone fax machine provides ready access, and it helps eliminate lost or misplaced documents if they get mixed with copied or printed pages.

Does an HP Fax Machine Provide Any Additional Benefits?
Fax machines provide increased speed over all-in-one devices, since they are only responsible for one function. This helps documents send and come through quickly, reducing wait times. A fax machine includes caller ID on the screen, making sure recipients know who sent the incoming documents. Most fax machines provide a receipt for senders after a document completes the process and is accepted by the recipient's machine. This provides valuable proof when sending important documents that are required by specific times, which the sender can include in any pertinent files for later access.
More
Less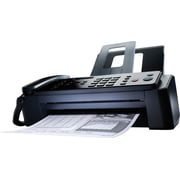 HP 2140 Fax
Item : 789922
Faxes as fast as 6 seconds/page
Copies up to 3 cpm
50-sheet paper tray