Navigate to Top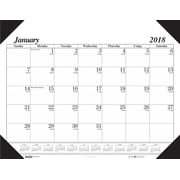 2018 House of Doolittle 18.5 X 13 Desk Pad Calendar Economy (0124-02)
Item : 2418256
Elemental black-on-white in black holder for simplicity and a very economical desk pad calendar.
This House of Doolittle 2018 Monthly Desk Pad Calendar comes with black reinforced leatherette corners, full year reference calendar on each page, Julian dates and days remaining, and lightly ruled daily blocks.
It is printed with high quality soy-based inks on 100% post-consumer recycled paper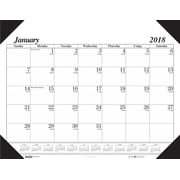 2018 House of Doolittle 22 x 17 Desk Pad Calendar Economy Black (124-02)
Item : 2425818
Elemental black-on-white in black holder for simplicity and a very economical desk pad calendar.
This House of Doolittle 2018 Monthly Desk Pad Calendar comes with black reinforced leatherette corners, full year reference calendar on each page, Julian dates and days remaining, and lightly ruled daily blocks.
It is printed with high quality soy-based inks on 100% post-consumer recycled paper which is FSC certified and made in the USA.