Navigate to Top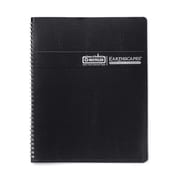 2018 House of Doolittle 8.5 x 11 Monthly Planner Earthscapes Full Color Photos (264-02)
Item : 2418270
A two-page spread for each month allows you to see important dates and reminders at a glance. Each monthly two-page spread also features a nature photo and inspirational quote to keep you organized and motivated. The planner core is bound strongly with wire binding and the planner cover features a strong black embossed simulated leather finish to withstand the daily use throughout the year. Go Green with House of Doolittle products as we use 100% recycled paper containing 100% post-consumer waste with soy inks, 50% recycled cover material, and 90% recycled wire. All of our products are manufactured in the USA and are FSC certified.
Colorful monthly House of Doolittle planner with striking nature photos will brighten each day.
This House of Doolittle Earthscapes Monthly Calendar Planner features 14 months for uninterrupted easy planning, from December 2017 through January 2019.