Navigate to Top
A desk and treadmill combined, the InMovement™ TreadMill Desk helps office workers stay fit, increases productivity and energy, and reduces neck and back pain. The desk enables users to give up a sedentary lifestyle in favor of improved health and stamina while on the job. Staples® offers an inventory of this walking workstation that includes safety features, USB docks, and a convenient power strip.

Consider Changing Over to the InMovement TreadMill Desk
On average, office workers spend about 6 hours each day seated at their desks, which sometimes contributes to inactive lifestyles at home. Scientific research shows that prolonged sitting increases body mass index scores and contributes to physical and mental problems. By using an office walking desk to exercise, users may reduce stress, improve their mood, and become more physically fit.

For anyone concerned about falling, this moving workstation has pause and stop buttons and extra wide foot rails so a person feels safe while walking. Choose a preferred walking speed and stay at a pace that matches your workload. The treadmill stops automatically when a person steps off the track.

Key Features of the InMovement TreadMill Desk
The connectivity panel has ports for an Ethernet connection, docking system, A/C power connections, and a cable management system. The height adjustment feature moves to fit any stature with the push of a button and supports individuals weighing up to 350 pounds. The 3.0 horsepower motor runs quietly so it doesn't disrupt other workers, and the desk's profile, measuring 72 (l) x 40 (w) x 49 inches (h), is similar in size to a traditional office desk.

How Does the InMovement TreadMill Desk Improve Health?
Research confirms that sitting for extended periods of time plays a role in cancer and heart disease. Compared to sitting, walking burns three times the calories and contributes to weight loss and a healthy body weight. Creativity may increase which improves job performance and by increasing blood flow, blood pressure could decrease. By exercising regularly, people with Type 2 diabetes normally see an improvement in glucose levels. Bone density may increase after using the treadmill desk on a long-term basis. As people walk at work, most users feel calmer, cheerful, and more focused to complete job responsibilities.

Are There Other Benefits When Using the InMovement TreadMill Desk?
The walking deck takes pressure off the feet by absorbing 30 percent of the impact as compared to walking on asphalt or grass. This shock absorption feature relieves stress from the knees, legs, and hips, reducing fatigue and the possibility of joint damage.

Does the InMovement TreadMill Desk Include a Workout Program?
Designed as a workplace accessory using biomechanics technology, the desk has an LCD panel that displays the number of steps and miles walked, and how fast. It also tracks how long you walk at one time without stopping. If you have not exercised in a while, plan to start out very slowly and gradually intensify how far you walk daily. Use the information stored on the panel to help reach fitness goals.
More
Less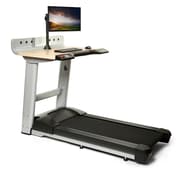 InMovement TreadMill Desk (IMTREADDESK01)
Item : 1968341
Walk While You Work: Walking burns three to five times more calories than sitting
Built in Connectivity: The connectivity panel makes it easy to power most devices with AC power hookups, USB docks and an Ethernet connection, while doubling as a cable management system
Stay Safe: Advanced safety features, such as extra wide foot rails, responsive stopping time and a convenient pause button