Navigate to Top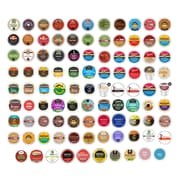 Van Houtte, Guy Fieri, Folgers, Barista Primahouse, Cake Boss & Other Popular Single Serve Coffees for K-Cup Brewers (CE1004912)
Item : 24192231
Coffees from Green Mountain - Green Mountain is known for its most unique flavors like the buttery Golden French Toast Coffee, creamy Caramel Vanilla Cream coffee and the fruity Wild Mountain Blueberry Coffee.
Coffees from Folgers Gourmet Collection - Folgers has a varied collection of coffees ranging from classic ones like Lively Colombian Coffee, Black Silk Coffee and Classic Roast to delicious blends like Caramel Drizzle and Vanilla Biscotti.
Coffees from Martinson - Martinson has a wonderful platter of coffees like Hazelnut Creme, Colombian Decaf, Hazelnut Vanilla Decaf, Breakfast Blend and others that taste like exotic warm beverages every time you brew them.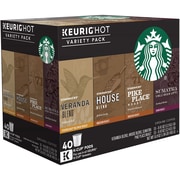 Starbucks Variety Pack K-Cup Pods, 40 Count
Item : 2104351
Blonde, medium & dark Starbucks signature roasts
Includes 10 K Cup pods each of Veranda Blend, House Blend, Pike Place Roast, and Sumatra
Highest-quality Arabica coffee beans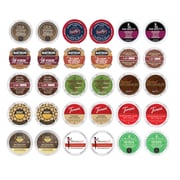 Luxuriously Warm, Delightfully Decadent Flavored Coffee, Hot Chocolate and Chai Variety K-Cup Portion Pack (CE1004896)
Item : 24192234
Cafe Escapes Milk Chocolate Hot Cocoa and Laura Secord's Hot Chocolate velvety, dark and intense refined beverages full of finesse are an unbelievably creamy, satisfying and an ideal treat for moments of indulgence in every sip.
Indulge in the best coffees with Timothy's German Chocolate Cake with flavors of bakery fresh chocolate cake frosting that blends caramel with Coffee Chocolate Cannoli from Cake Boss.
Martinson Hot Chocolate is a treat for both the young and the young at heart with its rich and creamy hot cocoa mix full of decadent milk chocolate flavor and the Wild Dark Cherry Chocolate coffee is a dark, hot chocolate with hints of wild cherry.