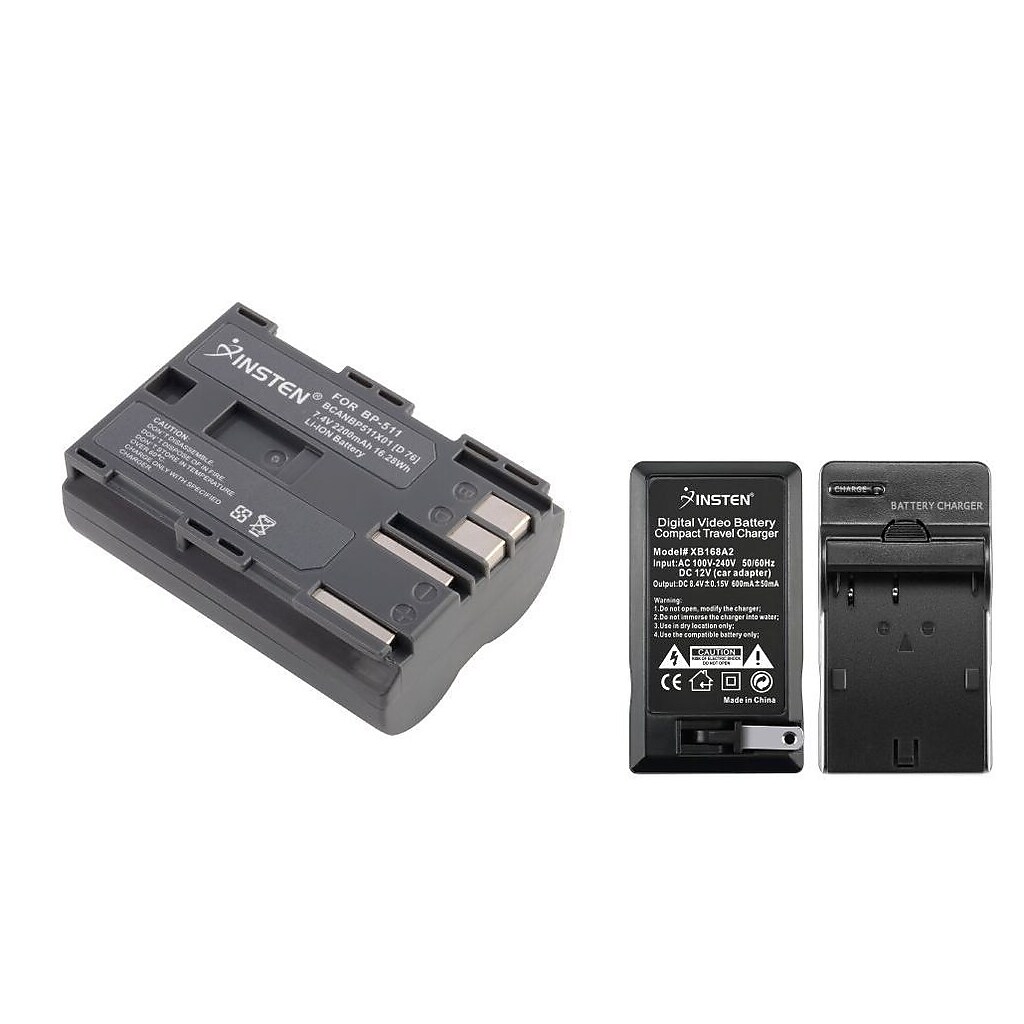 Insten 2-Pack BP-511 Battery + Car + AC Wall Home Charger for Canon EOS 50D/20D/300D/30D/40D/5D/D30/D60/Kiss Digital
Item #: 2116596
| Model #: 261435
This item is out of stock for delivery
About this product
Package Includes:2 x Li-lon Battery
1 x Compact Battery Charger Set compatible with Canon BP-511

Product Description:2 x Li-lon Battery

Rechargeable

High capacity, rechargeable DC 7.4V Li-Ion battery with premium cell.

Latest Lithium Ion battery technology gives the best performance possible compared to other battery technologies such as Nickel Metal Hydride (Ni-MH).

This battery will NOT be charged on Canon camcorders. A separate charging cradle is required on camcorders.

Net weight: 2.3oz. Approx. operation time: up to 2 - 2.5 hours.

Best replacement for the original BP-508 / BP-511 / BP-511A / BP-512 / BP-514 3055A002AA battery pack.

NOTE: For a successful and safe charge of your battery, make sure to correctly align polarity ( positive / negative) before placing battery into charger.

Complete charging solution for digital video batteries

High quality battery charger is a handy companion for digital shooting

Quick charge with automatic constant current control prevents battery from overcharging, short circuit, and electronic shock

Smart LED indicator shows charging status

Specifications:A/C power supply input voltage: AC100V-240V

Output voltage: 8.4V 600mA

Dimension: 3.25 x 1.5 x 1.75 inch

This Battery Charger kit includes

Battery charger with foldable AC plug

DC Cigarette lighter adapter (car charger) for any vehicle

Accessory only, battery not included

Charger Compatible with Canon BP-508 / BP-511 / BP-511A / BP-512 / BP-514 / BP-522 / BP-535 batteries.