Navigate to Top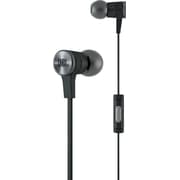 JBL Synchros E10 In-ear Headphones
Item : SS4368466
Experience dynamic, full range frequency response from premium 8mm drivers with PureBass performance for a legendary sound experience.
No matter the device you're using, clear sound and convenience is yours. You're in control - from smartphone to tablet - with the push of an inline, one-button remote/mic.
From its slim profile to its lightweight flat cable, E10s offer unique, angled ear-tubes and multiple ear-tips sizes for an optimal fit, reducing ambient noise for better listening.