Navigate to Top
Audio technology has evolved light years since its monaural era. Sound reproduction has been particularly advanced, with headphones now providing the same audio dynamics as freestanding speakers. Klipsch headphones are at the vanguard of faithful, distinct sound reproduction quality in a compact and portable headphone assembly, from a company that was a pioneer in stereophonic technology.

Types of Hard-Wired Headphones
Headphones immerse listeners in sound by functioning as a dedicated speaker unit for the ear. Speaker units can be as small as ear plugs or as large as ear cups. Wired headphone assemblies can be as simple as a narrow cable running from a playing device to an earplug or a band that wraps around the back of the neck and ending in earplugs. They also can be more robust, consisting of a padded headband bracket that fits on top of the head with cups that rest on the ear or fit over the entire ear. This provides audio isolation by blocking ambient noise. Klipsch over-ear headphones enhance the totality of this audio experience with the accuracy of their sound reproduction.

Klipsch Over-Ear Headphones Provide Distortion-Free Bass
Inside the housing of each ear cup is a speaker with a 40-millimeter titanium-coated driver. It features technology that balances the weight of the speaker's diaphragm and allows the electromagnetic coil to move within the field. Rare-earth, neodymium magnets make the movement possible with their light weight. The result is an authentic, deep low end that maintains its harmonic stability no matter the volume. The crispness of the bass is the signature sound quality of Klipsch headphones.

How Do the Headphones' Mid-Range and Treble Sound?
The authentic, distortion-free bass of Klipsch over-ear headphones provides an audio counterbalance to the realistic mid-range and high end. The combination results in a balanced contrast of sound that distributes evenly from one ear to the other, with center-on vocals that are particularly clear. The mid-range reaches full timbre and true resonance for a sharp but warm sound, including faithful reproduction of piano and guitar string overtones. The high end has sharp clarity without sounding metallic for an airy, silky treble.

Klipsch over-ear headphones offer a robust frequency response ranging from a low end of 16 Hertz to a high end of 23,000 Hertz. An impedance rating of 32 ohms means the headphones can easily deliver amplified sound, and their sensitivity rating of 110 decibels give you booming sound at the level you want.

How Comfortable Are Klipsch Headphones?
Over-size, deep-set articulating ear cups consisting of leather-clad memory foam allow the headphones to become more comfortable with every use. The ear-cup arms also angle slightly for a more natural feel on your head. The headband has solid metal sleeves for adjusting the assembly to head size. The entire assembly weighs less than 12 ounces.

What Other Features Do the Headphones Offer?
Cloth cables with reinforced threading offer a tangle-free hookup to players, while the ear cups hinge so they collapse and fold up for portability in a soft, zippered carrying case. Many Klipsch over-ear headphones have an in-line, three-button remote for syncing music to iOS devices. Some headphones consist of Grilamid TR material, the same material that goes into high-end eyewear to make them nearly unbreakable.
More
Less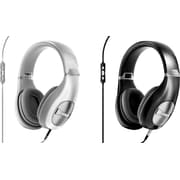 Klipsch STATUS Over-Ear Headphones, Pearl White
Item : SS2709462
Built from the same durable material (Grilamid TR) used in high-end eyewear, they exude both fashion and luxury
Dynamic Neodymium Drivers - Full range 40mm dynamic drivers deliver full range sound with deep bass & No Distortion
Finishes: Pearl White or Black