Navigate to Top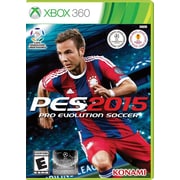 Konami 30197 XB360 Pro Evolution Soccer 2015
Item : 1671700
Lightning fast controls allow instinctive reaction to every moment of play.
Highly developed AI now constantly adjusts to action across the whole pitch. Teammates always offer options and support, making runs, finding space or marking opponents.
Choose exactly how and when to close down, tackle, or hold up play. Successful defending is in your hands.