Navigate to Top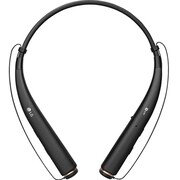 LG TonePro HBS780 Headset Black
Item : 2726930
Enjoy a better sound experience on the go with the newly designed LG TONE PRO HBS-780 (Blue), featuring Advanced Quad Layer Speaker Technology™ for outstanding, well-balanced sound quality.
Plus, with dual MEMS microphones it has never been easier to enjoy crisp and clear calls.
As a premium Bluetoothwireless audio headset, the LG TONE PROTM boasts smarter features such as Voice Memo, Find-Me and Tone & Talk 5.0 to allow for seamless control.