Navigate to Top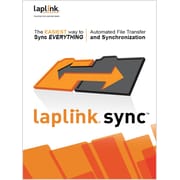 Laplink Sync for Mac OSX - 1 Mac for Mac (1 User) [Download]
Item : 1557680
If you have more than one Mac, Windows PC, Android Smartphone, or Tablet, chances are at some point you will want to sync files and folders between them.
With Laplink Sync, this task is no longer complicated! Laplink Sync quickly and easily transfers and synchronizes files and folders between PCs and tablets or smartphones.
Laplink Sync offers advanced file selectivity with multi-directional synchronization. This gives users the ability to define exactly which documents, pictures, music or other files are moved to or from which device or computer.