Navigate to Top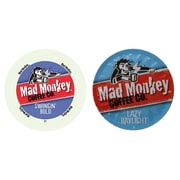 Mad Monkey Coffee Bundle, 94 Count (BLB0031)
Item : 24117417
Mad Monkey Swingin' Bold Enjoy this intense flavor of dark roasted coffee that gives you a flavor you crave every morning. The bold taste sends you into high gear to heighten your spirits.
Mad Monkey Lazy Daylight - Lightly roasted Arabica beans make a bright and lively cup of coffee that gives you a nice start to your lazy mornings every day.
Your morning coffee - Start your mornings with an invigorating cup of coffee that boosts your spirits and keeps them high for the entire day.